Meet Big White Ski Resort's new Director of Mountain Sports
Posted On: September 25, 2018 |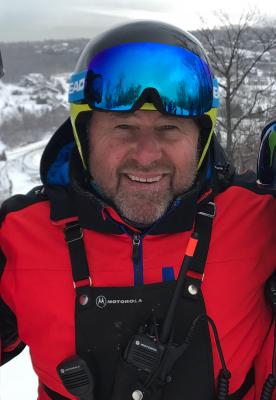 As focus shifts to winter operations, Big White Ski Resort Ltd. is excited to welcome Michael Richards to the team as the new Director of Mountain Sports. Michael along with his wife and two children are relocating to Big White from Collingwood, Ont. for the upcoming winter season.
Michael has been committed to the sports of skiing and snowboarding his entire life growing up in Mississauga, Ont. and learning to ski at Caledon Ski Club. After two years at the University of Western Ontario, Michael decided it was time to take a year off and move out west to the mountains of B.C. He joined the Whistler Mountain Ski School and ended up staying for 10 seasons rising to the role of Assistant Ski School Director earning his CSIA Level 4, CSCF Level 3, Stage 2 New Zealand Certification and Level 3 examiner.
Michael spent numerous summers teaching at the Dave Murray Summer Ski Camp and at Coronet Peak on the South Island of New Zealand. He eventually returned to the University of Western Ontario and finished his Bachelor of Arts degree. He then joined Xerox Canada Ltd. holding various positions throughout his career with the company.
While working at Xerox, winter sports remained an important part of Michael's life as he worked at Alpine Ski Club as their Technical Director, was on the Board of Directors and coached U12 racing.
"We are overjoyed that Michael has chosen to relocate his family and join us as Director of Snow Sports at Big White Ski Resort," says Peter Plimmer, President and CEO of Big White Ski Resort Ltd. "There might be a lot of difference in the size of mountains between Collingwood, ON and Big White, but both areas have a strong commitment to growing our sport and we remain focused on providing the best instructors to teach at the Big White Snow Sports School. Michael is a welcomed addition to Canada's Favourite Family Resort."