6 Reasons to Spend your Christmas Holidays at Big White
Posted On: December 19, 2018 |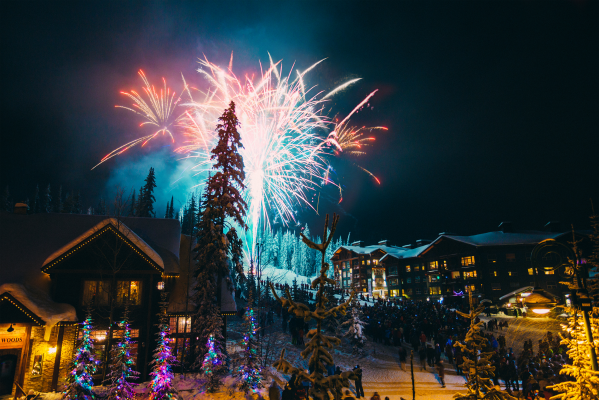 Even though the most magical day of the year is just a few sleeps away, there's still time to plan your holiday escape to Canada's Favourite Family Resort. No snow where you're at? We can guarantee it'll be a White Christmas at Big White Ski Resort, and if the promise of snow doesn't convince you, we've put together a list of other reasons you should mark us down in your Christmas calendar – and ways to save money while you're here!
The more you ski, the more you save
Your Christmas-season trip to Big White Ski Resort shouldn't just be enjoyable – it should be affordable. Not only do you save big money with our Biggie Cards, but you can also skip the ticket line and head straight to the lifts. During peak season, like Christmas and New Years, adults can save $40 on their first day, and up to $55 on subsequent days when they reload online – the more days you ski, the more you save! 
For a family of four, that's a saving of $150 – or enough to take the whole family for supper in Happy Valley and send the kids out for a few laps at the Tube Park afterwards!
You can purchase Biggie Cards at partner ski and board shops in Kelowna, Vancouver & Lower Mainland, Victoria, Calgary and Edmonton.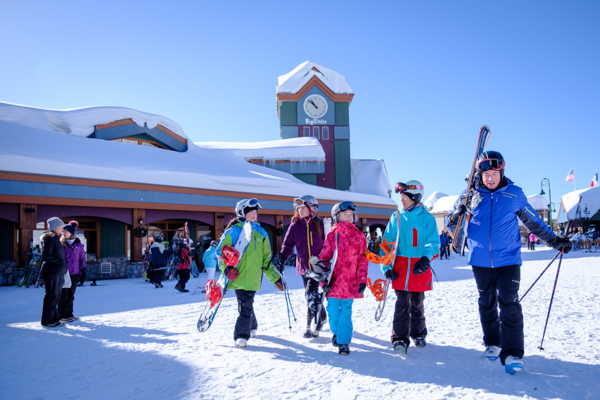 Fun for free, every day
Big White is Canada's Favourite Family Resort for a reason – there's so much to do at the resort that's fun, and more importantly, free!
Challenge some strangers to game of shinny at Canada's Highest Outdoor Skating Rink for just the cost of your rentals – or bring your own skates! Afterwards, warm up by a bonfire, and on Wednesdays, Fridays and Saturdays, a free cup of hot chocolate starting at 5:00 pm. On Saturdays, be sure to stick around Happy Valley for our weekly fireworks display.
No matter what night you're here, there's always something going on at Big White Ski Resort. On Tuesdays, Bingo! Thursday is Trivia Night, and on both Thursdays and Saturdays, Carnival Night at the Village Centre Mall. For a full list of events, check out our weekly events calendar.
Looking for the best groomers? The best glades? The best powder? Why not get a local's take by heading out on a free tour of the mountain with one of our Snow Hosts! Find them outside Dizzy's every day at 10:15. They're the ones in the bright yellow jackets – you can't miss them.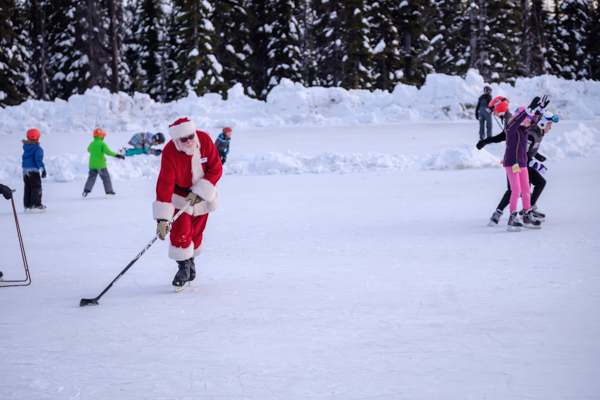 Stay 2 nights, save 20%
Can't stay more than two nights? No worries. As a Christmas present to you, we've reduced our minimum stay from five nights to two nights and shaved 20% off, meaning you can bring the family for a quick holiday getaway for as low as $93 per night. Spend a bit more and relax those aching muscles in your own private hot tub, or curl up with your love next to a roaring fire. Whatever your budget, Central Reservations has a room for you.
Our accommodation is completely ski-in/ski-out, so on Christmas morning, strap on your skis and head straight to the lifts – maybe you'll even catch Santa shredding the slopes from 10:00 am to 11:00 am Christmas Day!
Second-largest lift capacity in Canada
Did you know Big White has the second-largest lift capacity in all of Canada? That's right – in one hour, our 15 lifts can shuttle around 29,000 skiers and boarders up the mountain to access our nearly 2,800 acres of patrolled terrain. No matter how busy it is, there's plenty of Okanagan Champagne Powder for everyone! 
And, starting Friday, December 21, we'll have three lifts spinning for night skiing! Access 2.5 kilometres of lit-up terrain, including TELUS Park, after the sun has gone down.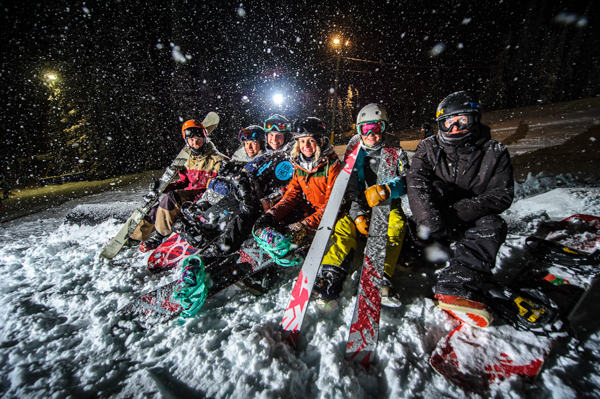 Christmas Dinner To Go, & other delicious deliveries
Save yourself from a sink full of dishes with our Christmas Dinner To Go. Let the chefs at Kettle Valley Steakhouse do the cooking and make you a traditional holiday feast with all the fixings, available for pick up or delivery.
Don't forget to buy a bottle or two of Okanagan wine from the Big White Beer & Wine Store to pair with your turkey dinner. Choose from around 100 local wines, craft brews and ciders and a selection of local artisanal spirits, and have your order delivered right to your door.
Don't want to waste precious slope time buying groceries? Vacation Food Service will stock your condo full of goodies so you can head straight to the mountain. Whatever you're in the mood for – from artisanal cheeses to gluten-free snacks – they'll make sure it's in your fridge.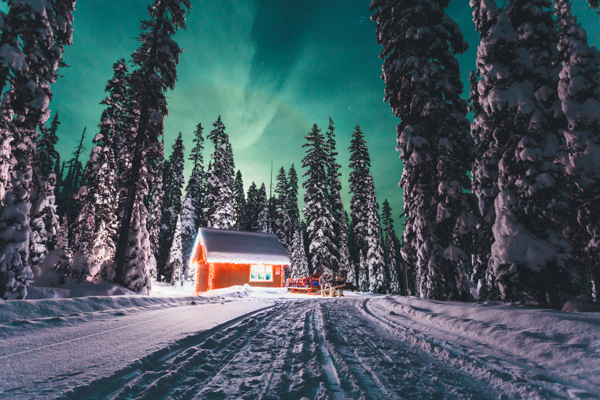 Quintessential Winter Wonderland
At Big White Ski Resort, we take the whole "White Christmas" motif to another level. From our legendary snow ghosts to the thousands of lights we have strung up around the Village, you'll think you've made a wrong turn somewhere and ended up at the North Pole. Or, at least, your children will...
Jingle through Big White's backcountry on a horse-drawn sleigh, or rent a tube and take it for a rip down the lanes at the Tube Park in Happy Valley. From December 21 to December 24, catch the big guy in his workshop and get a free holiday photo. 
On December 24, witness the Village transform for our inaugural Christmas Eve Festival. Spot Santa, his elves, Loose and Lucy Moose and even the Grinch! Take a photo in our 'Merry Christmas From Around The World' Photo Booth, decorate an ornament for the Big White Christmas Tree or write your very own Christmas jingle – and at the end of the evening, gather around The Woods and take in our spectacular annual Christmas Eve firework display!

The spirit of Christmas is alive and well at Big White Ski Resort. Make it a Christmas the kids will never forget – request a quote today!