Christmas is Big at Big White
Posted On: November 30, 2018 |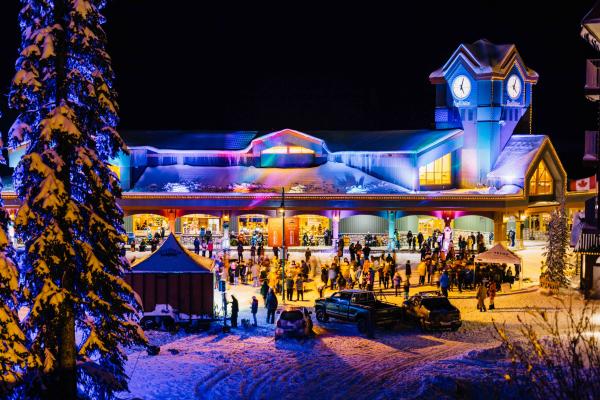 While Santa's elves are busy making millions of presents for millions of good little boys and girls this month, the staff at Big White Ski Resort are also busy wrapping hundreds of presents, checking thousands of lights, decorating dozens of trees and preparing for a 25-day kaleidoscope of red, white and green fun.
Like our snow, Christmas is Big here at the resort. We spend upwards of $30,000 on pre-Christmas events, Christmas itself, and setting up that general twinkly feeling required at this time of the year.
 
"Growing up in Canada, there's always a debate whether July 1 or December 25 is your favourite day of the year," says Michael J. Ballingall, senior vice president of Big White Ski Resort. "When you can expand December 25 to last the whole month of December by building Canada's highest 'Santa's Workshop,' I think the answer is easy. Families come from all over the world to visit our winter wonderland and the joy that gives us as members of the community is reinforced with the investment we make every year in more lights, more trees and more Christmas spirit."
 
The first blast of funds goes to our annual event, Light Up Big White. It costs us thousands of dollars to put together a laser show, to light up the trees lining the Village, from The Bullwheel to Snowshoe Sam's, and to light up the night with fireworks.
 
Following Light Up Big White is our annual Christmas Craft Market, which takes over the Village Centre Mall on December 2. Vendors from all over the Okanagan will be showcasing their wares, giving visitors a head start on their Christmas shopping.
 
On December 14, Santa Claus trades in his sleigh for a tube at the Tube Park in Happy Valley. Throughout the week, you may see his red suit and frosted beard whizzing by on the slopes before he settles into the serious role of listening to Christmas wishes on December 20.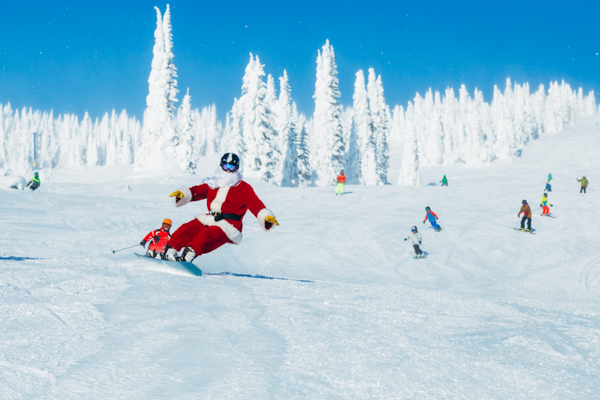 Santa's Workshop
will be set up in the Village until Christmas Eve. We spend a lot to ensure the space is a suitable home away from home for the big guy, and more importantly, a place of wonderment for the hundreds of little skiers and boarders who climb onto his lap. That doesn't take into account all the milk and cookies we go through to keep Santa's suit nice and tight.  
The festivities on
Christmas Eve
include bills for entertainment and food vendors, PA system rentals, decor, bringing Santa's reindeer down from the North Pole, and finally, for an incredible fireworks display. Once you add it up, you can see just how magical we want this month to be for children and adults alike.

"The Christmas Holidays at Big White are a big deal!" says Bethan Wetheral, Guest Services Manager at Big White Ski Resort. "From the time the staff starts in mid-November until the fireworks go off on Christmas Eve, it is a huge effort from every member of the Guest Services team to bring the magic to our guests. But we wouldn't have it any other way, from Santa's Workshop to the new Christmas Eve Festival and Tubing with Santa, we ensure the Christmas Spirit is alive and well at Big White."