Local Pre-Teen has a Bumpin' Bandana Business at Big White
Posted On: December 16, 2019 |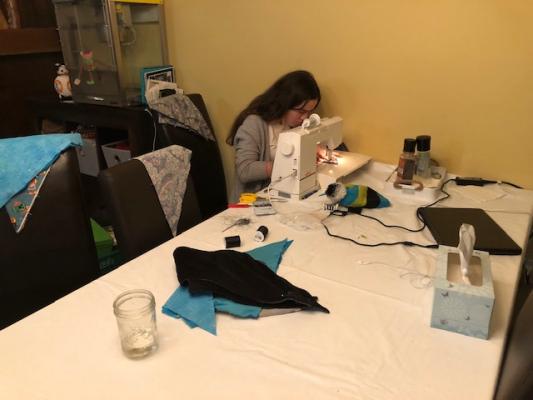 This time last year, 12-year-old Serena Richards didn't know how to sew. Now, she's started a bumping business sewing and selling bandanas from her home at Big White.
Serena is the daughter of Ski School Director, Michael Richards, and last year, attended school on the mountain. Last spring, the students were challenged to design a business and sell products at a Craft Show in Happy Valley. They were required to understand every aspect of the business, from costs of manufacturing, cost of materials to the time it took to produce the goods. And, of course, could their business turn a profit?
Spending the majority of her childhood in Ontario, Serena came up with the idea to sew bandanas, which were popular out east due to the cold temperatures. But because she didn't know how to sew, Serena had to enlist the help of the Big White Ski & Board School's seamstress, and spent many nights, after school, taking lessons – until she had half of the required bandanas made.
She was so committed to the project, Michael said, his wife, Julie, brought back one of her sewing machines in her checked baggage while on a trip to Ontario.
Serena carried on, now with her very own sewing machine, and produced enough bandanas for the entrepreneur assignment, sold the majority of them and turned a profit. Since then, she hasn't looked back and has been producing them throughout the fall, selling them to friends back east – and now, right here on the mountain. On Sunday, December 15, Serena sold over 20 bandanas at Big White's annual Christmas Craft Market under the name Beani's Bandanas.
Couldn't make it to the Craft Market, but want to support this young entrepreneur? Email michaelrichards6989@gmail.com to get your bandana!