Top 5 Backdrops For Your Big Day at Big White
Posted On: March 22, 2019 |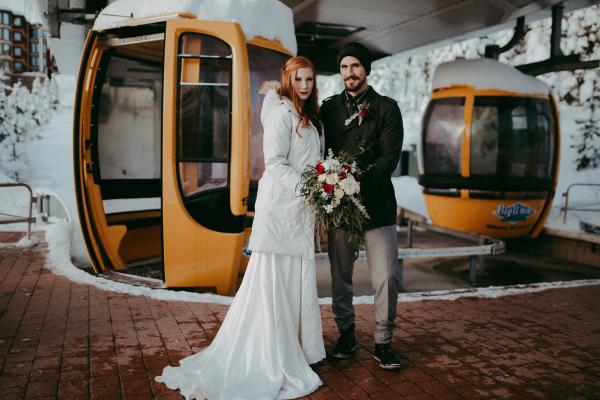 Since 2014, Big White Ski Resort been the backdrop for numerous love stories – in summer, winter, sun and snow. The event professionals at Big White will make your wedding day story-book perfect, whether that's hauling benches to your chosen "I do" location, helping you find a wedding planner and photographer, or simply being there for support while you do it yourself.


"We'll pretty much do everything but move mountains because we like those around here," says Ashley Vander Laan, Big White's Director of Food and Beverage. "Everything is customized and about the couple."
To show you just how picture-perfect the mountain is, Big White has put together a list of the best photo backdrops for your big day – so breathtaking, you'll want to throw it back, Thursday after Thursday.

1. Rhonda Lake/The Cliff
Jump on the Bullet Chair, pass over fields of wildflowers, and end up basking in the spectacular blue of Rhonda Lake, situated at the base of The Cliff.
2. Snow Ghosts
Big White's world-famous snow ghosts make for a stunning third in your portrait as a newly-wed couple. After a few snaps, strap on a pair of skis or a snowboard and make your way back to Big White's completely ski-in, ski-out Village.
3. Monashee and Selkirk Mountain Ranges
Bring your guests up the alpine to witness the spectacular views of the Monashee and Selkirk Mountain Ranges. The only thing that will make everyone "ooh" and "ahh" more is the bride, herself.
4. Warming Hut
Jingle through Big White's stunning back country on a traditional horse-drawn sleigh. Jingle through snow-covered trees and lightly falling snow until you reach the picturesque warming hut hidden away in the forest.
5. Ice Climbing Tower
You're backdrop doesn't get anymore unique than this. Strike a pose in front of the glistening, fairy-tale-like 60-foot Ice Climbing Tower in Happy Valley.
Find out more about Big White weddings, here, or email weddings@bigwhite.com