Ski School - British Columbia's second largest and most successful year in Big White history
Posted On: April 06, 2018 |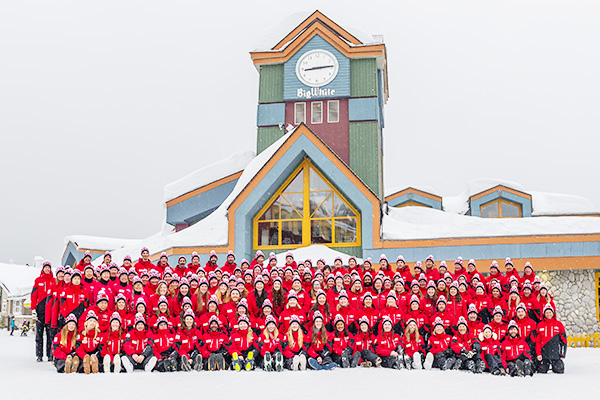 Big White Ski & Board School by the numbers
Big White Ski Resort's Ski & Board School is the second largest ski school in British Columbia with 213 ski and snowboard instructors and 32 indoor administrative staff. These instructors have taught 60,540 lessons so far this season with lessons continuing until closing day, April 8. This includes 3,345 first time skiers and snowboarders being introduced to the sport through Discover, Next Step and Never Ever Days programs.
These are just a few of the innovative programs brought in under Josh Foster's leadership, who has been the director of snow sports at Big White Ski Resort since 2004. In this time lesson participation has grown by over 50 per cent. Another popular program is the After School program available to local Okanagan school students, which saw 1,017 participants this season.
Through the Level 1 Canadian Ski Instructors' Alliance (CSIA) Certificate Program led by Level 4 CSIA Evaluator Kristian Armstrong, the Ski & Board School has certified 109 new CSIA Level 1 instructors. There have also been 92 participants in Gap Programs at Big White, which are instructor training programs from overseas.
As noted in a previous release, three Big White Ski & Board school instructors will be attending Interski 2019 in Pamporovo, Bulgaria, which is the most per capita of any ski school in the province. Attendees include Foster, Level 4 Canadian Association of Snowboard Instructors (CASI) Evaluator Jamie Forbes and Level 4 Instructor Mark Shaxted, who will be attending as a part of the Irish Association of Snowsports Instructors (IASI) team.
"Not only has Big White Ski Resort had an incredible year for snow, the Ski & Board School has also had a record year for lesson participation," says Foster. "This has been our biggest year ever for first time skiers and snowboarders, we've had three incredibly successful Masters' Weeks and we also had our best year ever with our Snow Sports Training Camp."