Parking & Bike Shuttle - Day Parking is Free!
Big White Ski Resort is located 56 km (35 mi) southeast of Kelowna, the largest city in the Okanagan Valley. In the summer, it's an easy 50-minute drive from Kelowna.
Directions from Kelowna: Follow Highway 33 for 32 km (20 mi) until you reach Big White Road. Turn onto Big White Road and follow it for another 24 km (15 mi) until you arrive at the Happy Valley turnoff, where you'll find free parking in Happy Valley.
Parking Info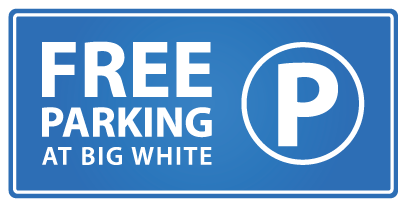 Day Parking for Summer Activities is available at the Village Centre Mall (Central Mountain Check In) from Thursday through to Monday. Please note, the far east side of the lot is reserved for Bike Drop Off ONLY and there is absolutely no parking in this area. Parking is also available on the downhill side of Big White Road between Trappers Crossing (Kettle View Road) and the Bullet Chair (Raven Ridge Road, Feathertop Way).
Overflow parking is available on Feathertop Way (first right after Black Forest Road). Follow the orange inuksuk's to get to the Village Centre/Bullet Chair from this area.
There is a regular shuttle that operates between Happy Valley and the Village. The Bullet Chairlift, biking trails, rentals/repairs, retail store, washroom facilities and restaurants are all easily assessed from the Village.
Please note there is no parking available at the base of the Bullet Chairlift. 
Shuttle Schedule
Summer season now closed
Arrives Happy Valley
(near Happy Valley Day Lodge)
*:30 & :00
 
Leaves Happy Valley
*:45 & :15
Arrives Village Centre Mall
(outside Central Reservations)
*:50 & :20
Leaves Village Centre Mall
*:55 & :25
Mountain bikers: Please note that the shuttle has a trailer for bike transportation between Happy Valley and the Village. Be sure to leave adequate time before shuttle departure to load bikes onto the trailer.
*The first loop of the day is at 9:30am

**The shuttle will only drop off and pick up at the above locations
This is a complimentary service for guests of Big White Ski Resort
ATMs at Big White
There are 5 ATM's on the mountain, located in the Village Centre Mall, The Inn at Big White, Snowshoe Sam's, Sessions and inside the entrance-way to The Market (general store).