Easter Egg-citement & More on the Final Weekend of the Season
Posted On: April 18, 2019 |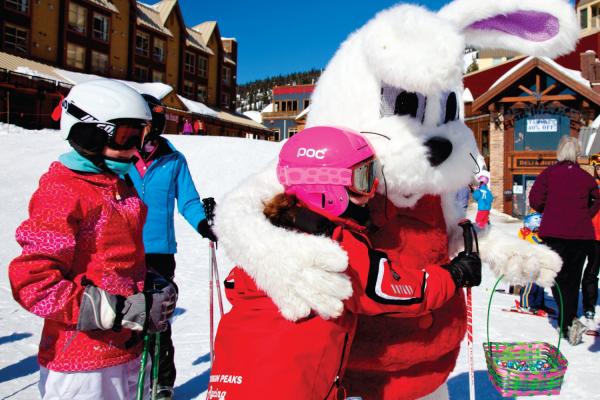 The final weekend of the 2018/2019 ski season is here! And, since it coincides with Easter weekend, we have a ton of Easter-themed fun happening throughout the resort over the next few days. So, whether you're celebrating the holiday with family, or just hoping to get a few last shreds in before the lifts close, don't miss out on these seven end-of-season events:


1. Family Photos with the Easter Bunny
April 20 & 21, 1:00 pm - 2:00 pm
Big White Chair, Village
The Easter Bunny is returning once again this year! He'll be hopping around the Village both Saturday and Sunday – be sure to bring the kids out for a photo and maybe snag some tasty chocolate treats for yourself!

2. Egg Decorating
April 20, 2:00 pm - 3:00 pm
Happy Valley Day Lodge
Come craft with us in Happy Valley on Saturday afternoon – no Easter is complete without a few beautifully decorated eggs to put out on display!

3. Easter Sunday Breakfast
April 21, 9:00 am - 11:00 am
Moose Lounge, Happy Valley Day Lodge
Start your day right with a delicious breakfast prepared by our chefs at Moose Lounge, complete with bacon, ham, sausage, hash browns, scrambled eggs and more! PS: The Easter Bunny will be making an appearance – after all, bunnies need to eat, too!

4. Easter Sunday Mass
April 21, 9:00 am - 9:30 am
The Woods, Village
Pastor Jack will be hosting an Easter Service on Sunday morning for anyone who would like to attend. Seating is limited, but there is standing room available.

5. Easter Egg Hunts
April 21, 9:15 am & 12:30 pm
Kids' Centre, Village
The Easter Bunny has enlisted the help of our Ski School staff to hide hundreds of chocolate-y Easter treats around the resort. Bring your basket and join in on one of the two hunts!

6. Sessions' Season-Ender Slush Cup
April 21, 1:30 pm - 5:30 pm
Sessions' Taphouse & Grill
Spend Sunday afternoon basking on the Sessions' patio and cheering on the brave skiers and snowboarders willing to brave the slush pit. There will be an outdoor BBQ, bar and a live DJ!

7. The Woods' Snow Patio
April 19-22, 11:00 am - 11:00 pm
The Woods' Patio
Ditch the goggles and toques! The Woods' is hosting a weekend-long, beach-themed end-of-the-season party on its snow patio, complete with beachy tunes and drink specials!
And, if you book a two-night stay through Central Reservations, and you can enjoy a final day of skiing absolutely FREE! We'll give you two free lift tickets with your reservation. Rooms starting at just $168 per night.
Check out our other accommodation deals, here.
Have an egg-cellent Easter, everyone!