Charley Victoria's All Day Après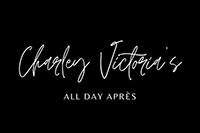 Don't settle for normal, Charley Victoria's, All Day Après is the luxury street food you need
Charley Victoria's All Day Après is now open at Big White Ski Resort and will be taking the place of what used to be the Blarney Stone Irish Tavern. Charley's will introduce a relaxed environment with a vintage, ski cabin feel, unlike anywhere else at Big White.
Charley's will feature street style food with an up-scale twist, all crafted by Head Chef, Jilly Leatherland. The menu and website will be released to the public on Nov. 23rd. Visit charleyvictorias.com or Facebook and Instagram at @charleyvictorias. The restaurant will also host a world class cocktail menu incorporating local flavours from right here in the Okanagan brought to you by Mixologist Curtis Kelly.
In the words of owner, Justin Reid, "We have made it a priority to partner with as many local businesses as we can. We are very excited to be collaborating with Okanagan Lifestyle Apparel for all the staffs clothing and if you are local to the Okanagan, you will recognize our beer and wine list featuring exclusively local wineries and breweries."
The restaurant will safely accommodate up to 120 guests, while ensuring proper distance and all safety measures are in place.


Reservations:
Jordanna @ (403) 396-7663
Open Tuesday thru Sunday 10am - 10pm
Closed Monday
Location:
Located at the Inn at Big White
Facebook:
Charley Victoria's All Day Apres