Big White Ski Resort bid to host 2020 FIS World Cup Snowboard Cross looks promising – site inspector
Posted On: December 05, 2018 |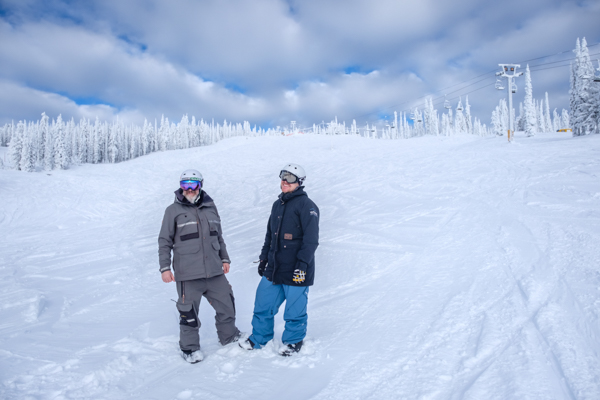 The 2018/2019 season may have only just begun, but Big White Ski Resort has 2020 in its sights: the resort is in the early stages of being considered as a host for a FIS World Cup Snowboard Cross event next season.
The first step in determining whether Big White Ski Resort is a good fit for an event of this magnitude is a site inspection – completed this past weekend by Jeff Ihaski, president of White Industries Ltd. and world-recognized snowcross builder.
He and Flynn Seddon, Big White Ski Resort's director of terrain parks and outdoor events, toured through TELUS Park on November 30 and December 1, determining the layout of a potential snowcross course, as well as the snowmaking capabilities in that area.
Ihaski, who has been building snowcross courses for the Olympics since Torino in 2006, will report his findings back to Canada Snowboard, which he says, are "vital in the success of the bid to host."
"To tell you the truth, the venue is awesome," Ihaski says. "We're just finding the top section to be pretty tight and steep, so we're trying to find ways to run that." The pair figured that by removing a few rails at the top of the park, they will have more than enough room to build the course.
For those of you who spend a lot of the time in the park, don't worry – these adjustments shouldn't alter your experience too much. "I don't know how much better it could be than to be able to ride park, and watch the best athletes in the world compete in snowcross," Seddon says.
Logistically, Ihaski says, TELUS Park is already set up for an event like this – which is why he and Seddon didn't consider other areas on the mountain. There's enough space; access to power; and room to drive up and unload any needed equipment.
An event like this would be stepping stone for the resort – it would graduate Big White Ski Resort to the same tier as Whistler Blackcomb, Chamonix in France, and Verbier in Switzerland. "Big White, quite honestly, deserves it," Ihaski says. "Big White's been really stand-out in western Canada for supporting amateur sports. I think this is really the next step of something that was a long time coming for them."
Big White Ski Resort has worked closely with the International Paralympic Committee in the past – last February, hosting the 2018 World Para-Snowboard World Cup Finals, which saw 80 Para-athletes from 16 countries across the globe compete in Snowboardcross and Banked Slalom.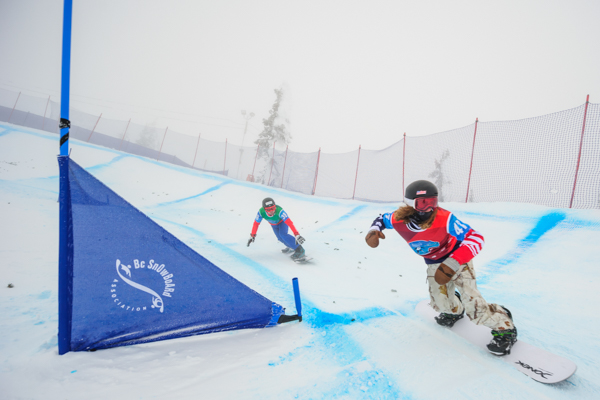 "To have a FIS World Cup snowboard event would pretty much cap off my entire career at Big White Ski Resort," says Seddon, whose long history at Big White includes working as the mountain's first snowboard instructor in the late 80s, and then moving back permanently in 1994.
Overall, both Ihaski and Seddon were pleased with the outcome of the inspection. "If Jeff knows that he could construct a course here that would satisfy the international riders and that there's a course he could build here that he would feel proud of, then that's fine with me," Seddon says. "We have to have a top-notch course in order to host a top-level event."