Mountain Safety Starts With Staying In-Bounds
Posted On: January 16, 2019 |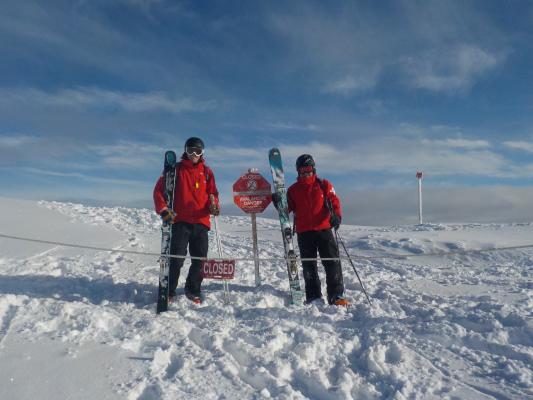 In light of a recent incident that left two Big White snowboarders lost in backcountry terrain, we want to remind our guests to stay within boundary lines. While we know backcountry can be tempting, and, if you are trained, prepared and carrying the proper gear, can be explored safely, our number one priority at the resort is ensuring guests enjoy our beautiful terrain responsibly.
"The best rescue is no rescue at all," says Kris Hawryluik, director of Ski Patrol at Big White Ski Resort. "Before anything you need experience, training, a mentor – someone who's been there before – and must understand simple navigation." He adds that navigation includes knowing how to use both the GPS on your phone, as well as a map and compass.
Big White has a web page dedicated to mountain safety – including information about the Alpine Code of Responsibility, Terrain Safety, Lift Safety and Boundaries and Signs. Our area perimeter boundary is clearly marked with rope lines, and is marked to protect you from potentially hazardous terrain. The area is not only unpatrolled and unmarked, but it is also dangerous. Please read through the information before considering ducking the line.
Hawryluik warns not to follow others beyond the rope line either – the people ahead of you may be better trained or may also be putting themselves at risk.
Before it is safe to explore Canada's beautiful and vast winter backcountry terrain, it is imperative you are properly trained in understanding and recognizing weather patterns, reading alpine terrain, knowing avalanche dangers and being able to use an avalanche transceiver, probe and shovel. It's equally as important to know when to turn around. If you are interested in getting Avalanche Skills Training, there are courses listed on the Avalanche Canada website.
We would also like to remind skiers and boarders to adhere to our Alpine Responsibility Code. Our slopes are for everyone – beginner to advanced – and while you may feel in control at high speeds, we ask that you ski or ride with respect to the other guests and to "Slow Zone" signage.
For more information on backcountry safety, please read through the AdventureSmart website. And, for the current avalanche bulletin for outside our area boundary please check Avalanche.ca. Big White Ski Resort is located in the Kootenay Boundary Forecast Region.

In the event of an emergency on-mountain from 8:00 am to 9:00 pm daily, contact the ski patrol at 250-491-6160. All other emergencies call 911.