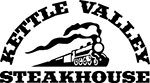 Nestled into the Happy Valley Day Lodge at the bottom of The Lara's Gondola, The Kettle Valley Steakhouse is an upscale oasis for fine hospitality, great steaks and an extensive Okanagan wine list.
A great Steakhouse starts with its beef. Here at the Kettle Valley Steakhouse, We're committed to featuring only the very best grade of all natural beef that has been aged for a minimum 28 days.
In addition to our succulent steaks, the seafood we feature on our menu is organic, sustainable and unforgettable. We're dedicated to the sustainability of our oceans, partnering with Ocean Wise we guarantee that our seafood is not only responsibly sourced but also of the highest of quality and freshness.
A natural match to our classic menu is our Okanagan-centric wine list. Focusing on local varietals that are proving to be world class champions such as award winning Pinot Noir and Syrah.  Here in the Okanagan, we are fortunate to have a burgeoning wine industry with an ever increasing supply of remarkable wines that showcase the unique terroir of the Okanagan Valley.
Reservations for large or small groups are always recommended. ​ Families encouraged, kids welcome.
The experience of dining in larger groups has been elevated in the Steakhouse by the addition of a Harvest Table made of 100 year old reclaimed fir and able to comfortably seat up to 22 guests.  Harvest Table dinners are served family style and highlight locally sourced Farm to Table items.
---
Your Home for the Holidays
We warmly invite you and yours to spend your holidays with us at Big White. Celebrate in our snow covered Winter Wonderland filled with twinkling lights, festive activities as well as the sights, sounds and smells of the holidays.
Join us for a warm and festive Christmas Dinner the evening of December 24th & 25th and Christmas Day Brunch from 10am-2pm, December 25th. Celebrate New Year's Eve with an exquisite menu prepared by our New Executive Chef Robert Walker.
A la carte Steakhouse menu will be available along with prefix menus December 24th and December 31st, prefix menu only available December 25th.
Hours: Open daily at 5pm until late
Please call 250.491.0130 for reservations