Horse Drawn Sleigh Dining Tours
For a culinary experience unlike any other, come aboard an old-fashioned horse drawn sleigh to our cozy cabin in the woods.
We look forward to hosting you in 2022/2023 - online bookings coming Fall 2022. 
Dinner & Sleigh Bells
Admire Big White's pristine beauty as the majestic Clydesdale horses guide the sleigh through snow covered forest to our cozy cabin. 
Keep warm and snuggle under blankets, as you explore the enchanted forest trails under a star-filled night sky. Then its on to our cozy cabin in the woods where you can sit back, relax and enjoy a delicious gourmet dinner prepared by our chefs. This is a dining experience you won't soon forget; be sure to save room for dessert! Alcoholic beverages not provided, BYO is permitted.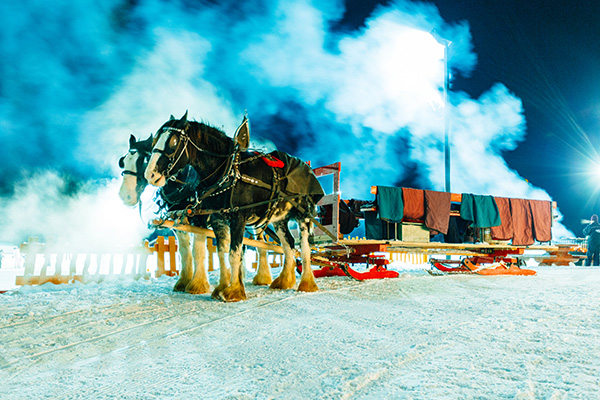 Dinner & Sleigh Bells 
Dinner Sleigh Schedule & Pricing 2021/2022

Tour Days:  6 days/week, Thursday - Tuesday at 5:30pm 

Sleigh Ride - Small Group

$250 (up to a maximum of 8 people) 

Meal

Priced per person in addition to sleigh ride fee:
Adults (12 and over) - $57.23 (plus GST)
Youth (6 - 12 years old) - $28.32 (plus GST)
Tots (5 and under) - $11.80 (plus GST)

Sleigh Ride - Large Group

$500 (up to a maximum of 12 people) 

Meal

Priced per person in addition to sleigh ride fee:
Adults (12 and over) - $57.23 (plus GST) 
Youth (6 - 12 years old) - $28.32 (plus GST) 
Tots (5 and under) - $11.80 (plus GST) 
* During the Holiday Period (December 19th - January 3rd), the flat rate for the sleigh portion is $500 regardless of party size 
* Vaccine passports are required for the Dinner Sleigh Tour; this documentation will need to be provided and verified with a secondary piece of identification at the time of departure 
Helpful Information
Tickets to be purchased online or through the Concierge Desk 
Please respect the horses and do not approach them without getting consent from the driver
Dining Tours must be booked at least 24 hours in advance
Please let the Concierge Desk know of any dietary requirements 72 hours prior to tour departure.
No exchanges or refunds within 24 hours of tour departure, no exceptions
24 hours to 48 hours, sleigh ride time can be changed, no refund available
More than 48 hours notice, full refund available
Quick Tips
Wear warm winter clothing including winter boots.
Arrive 10 minutes prior to scheduled departure to ensure your tour leaves on time
Sleighs will not wait for late arrivals and refunds will not be offered, please respect your tour operator and others
How to Get There
From the Village Centre - take Lara's Gondola to Happy Valley, tours meet just outside Happy Valley Day Lodge.
By Vehicle - Park in the Happy Valley Parking Lot, proceed to the meeting place outside Happy Valley
Facilities
Hot snacks/beverages available for purchase in the Happy Valley Day Lodge, featuring hot dogs, hot chocolate, and some other types of snack food and beverages (no alcohol)
Heated Washroom facilities in the Happy Valley Day Lodge
Washroom available at the cabin
Contact Us: