FOR NEW AND FIRST TIME BIKE PARK RIDERS
Where to Start
If it's your first time biking at Big White, or maybe even your first time mountain biking, it may seem a little intimidating at first - but don't worry, we've got you covered. As long as you're comfortable riding a bike, you can give downhill mountain biking a try. Just be sure to follow our helpful tips to get you safely having fun on two wheels.
Helpful tips:
If you're new to the bike park, or just unsure of where to begin, we recommend booking a beginner lesson from our bike school.
Ride with a buddy, it's safer and more fun.
Purchase your lift ticket at the VCM. If you're 19 or under you will need a parent our guardian to sign a waiver for you. (See tickets for more details)
We recommend you read our bike safety page before you arrive - the page also include our policy for riders in the park aged under 19.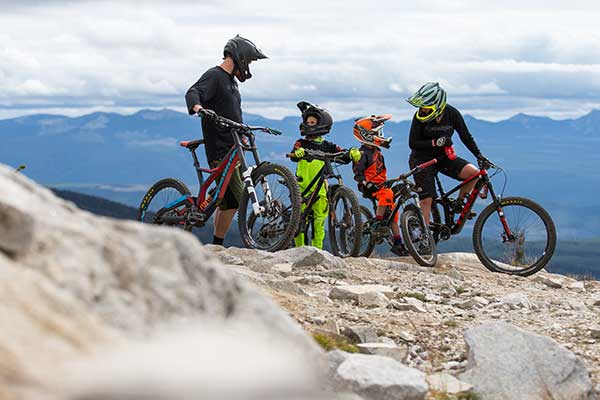 ---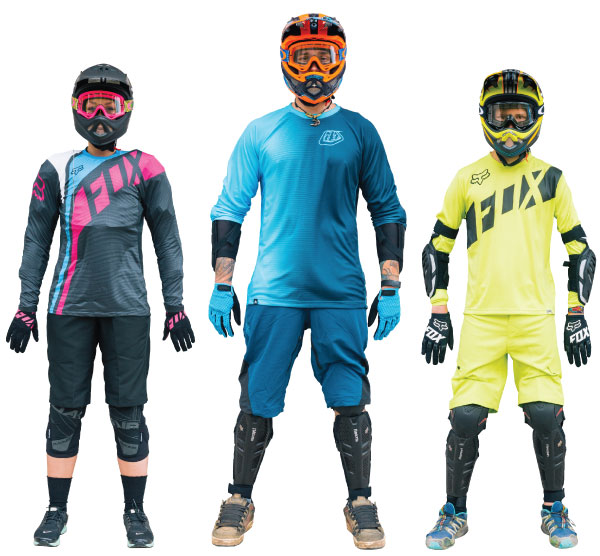 What to Wear
Helmet (Mandatory)* – A helmet is required for all riders in the bike park. We strongly recommend a full-face helmet to provide the greatest range of protection.
Goggles** – Wrap-around goggles are the best choice for eye protection against dirt, branches, and other obstacles you'll encounter on the trails or in a crash.
Elbow and Knee Pads* – These provide protection from cuts, scrapes, and any impact to these parts of your body that are most commonly injured in a crash.
Closed-Toe Shoes – Shoes with a durable toe box and high ankle support are important to manage the rough terrain and impact.
Long Sleeved Shirt and Shorts** – Cover up with the proper clothing to limit the amount of bare skin showing.
Full Finger Gloves** – Use these to keep your hands on your bars with secure grip on your brakes. Your hands are typically are first to support you in a crash, so you want them covered up.
Body Armour* – Optional for anyone who wants extra protection for their back and chest.
Neck Brace – Optional for anyone who wants extra neck support, which typically is needed when hitting large jumps and drops.
*Available to rent from our rental department
**Can be purchased from our retail store
---
What Bike to Ride
You'll want a dual-suspension bike for the safest and most comfortable experience. You can get a downhill-specific bike, or an enduro bike, which is capable of pedaling uphill – either will do.
Our rental department has a robust range of bikes that are specially designed to withstand any kind of terrain that the mountain can throw at you. This includes Norco, Trek and Spawn bicycles.
Renting a bike means that our rentals team will be able to find the best bike fit for you, making sure that you're comfortable and safe. Plus every bike rental comes with a free helmet rental.
We highly recommend pre-booking your bike online – our rentals team will be able to put aside the perfect bike for your visit.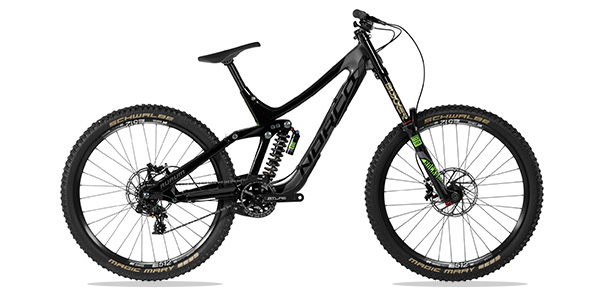 ---
Where to Ride
Beginner Skills Area: Located in the Happy Valley area the skills park offers three progressive zones to gain your confidence with tires on the dirt, letting gravity take you downhill, cornering through berms and rolling over uneven features. If you've mastered the terrain here then you're ready to move on to conquer the chairlift and explore the main bike park trails.
Loading the Gondola: Lara's Gondola operates on weekends during the summer to help visitors move between Happy Valley and the Village Centre. The gondola is used by both pedestrians and bikers. Pedestrians can load any cabin, while biker will need to wait for the square cabins.
If you are unfamiliar on how to load, ask a liftie for assistance. On the loading platform, bring your bike upwards so that you are holding the handlebars and rolling the bike on the rear tire only. Line up with the cabin door opening and walk your bike forward. Once in the cabin, you can turn your bike to rest the front tire on the opposite side of the cabin. To exit, once again bring your bike up on the rear tire and walk forward rolling onto the platform.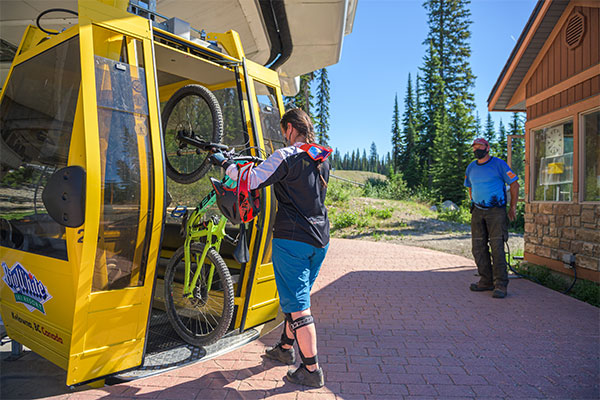 Loading the lift: Our bike park is accessed via the Bullet Chair. If you're unfamiliar with loading, our lifties are there to help assist you.
Once you're on the loading platform, roll your bike forward and pull up on the handlebars to get your bike upright on the rear tire. Then stand centered behind your bike as you wait for the chair to approach. The bike carrier will be on the backside of the chair. Wait for the chair to pass and then walk toward the back of the chair as it moves forward. Line up your front tire in the air with the yellow carrier, then give it a little push to roll the tire up and secure it in the basket.
If you have a smaller bike, you may need to push slightly upward, or lift it in order to reach - ask the liftie for assistance! Continue to walk forward and wait as the next chair comes around for you to sit down. The lifties will unload your bike for you at the top. Remember that two bikes are permitted per chair.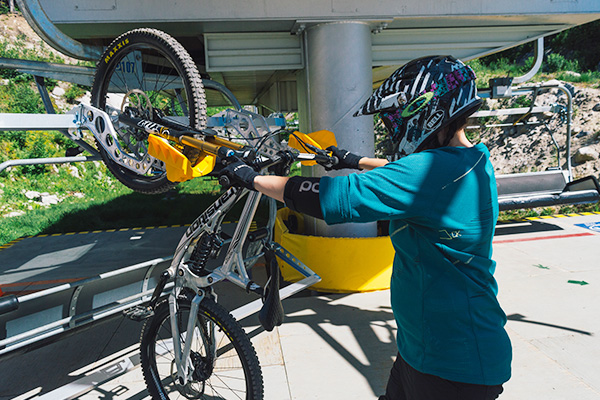 ---
Ride Smart
Whether it's your first time in the park, or just your first lap for the day, it's important to ride smart. Slow down before you speed up, because crashes can happen often on your first lap.
PRE-Ride: Warm up the brain and body and inspect the trail at low speed.
RE-Ride: Lap the trail a few times and get to know the flow of the features.
FREE-Ride: Start small and work your way up to faster speeds and larger features.
There are two main types of trails - Free ride or flow trails and technical trails. You'll find both types in the difficulty designation of green, blue, black and double black.
Make sure you follow all trail signs and ride within your ability. Downhill biking can be physically demanding, so listen to your body, stay hydrated and take breaks as needed.
Bike Patrol is available on-mountain for any assistance required - phone 250.491.6160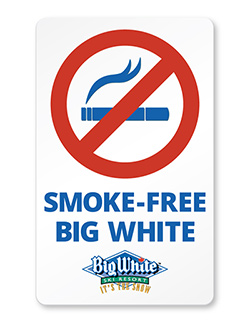 Smoking of any kind (including tobacco, marijuana, e-cigarettes and vaporizers) is strictly prohibited anywhere on Big White Ski Resort property outside of designated smoking areas. Applies to summer and winter seasons. Mountain Safety Info >>