Our Overnight RV Parking is located in Happy Valley; follow Big White Road to signs for Happy Valley Day Lodge, continue along Happy Valley Road until you see the designated zone.
There are no tent sites at this park. This lot is best suited to self-contained RV's or vehicle campers only due to zero services available. This is an alpine environment and alpine conditions will affect the grounds accordingly. Please carry out any garbage/recycling you may accumulate during your stay. We appreciate your understanding in this matter.
Walk to the Village via Happy Valley Way to access all summer activities, including downhill mountain biking, hiking, and scenic chairlift rides. After enjoying a meal at one of our on-mountain restaurants, head back to the RV for a relaxing evening under the stars.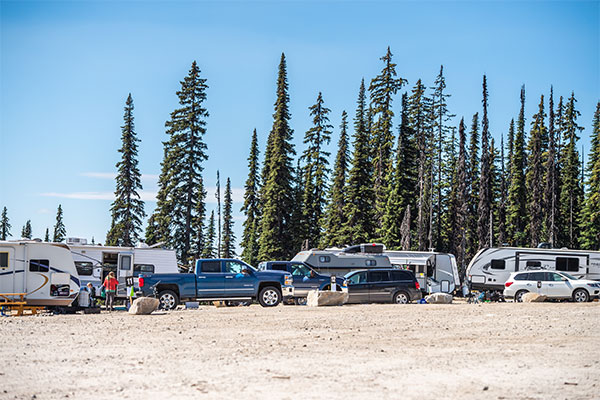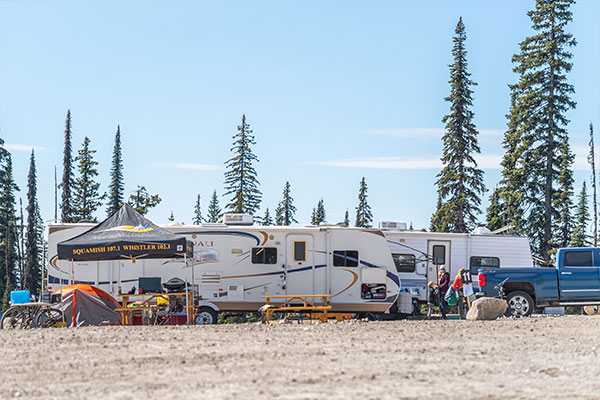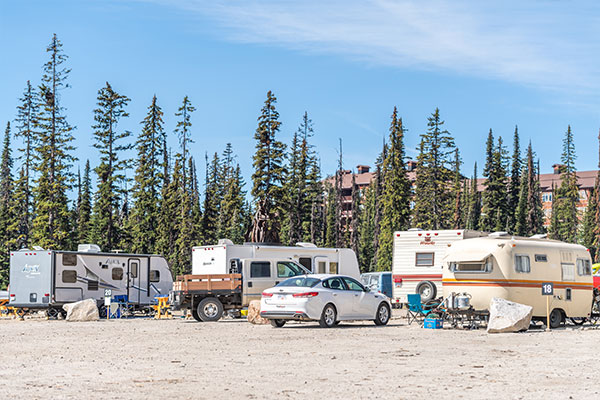 Open Hours
Thursday, June 29th - Monday, September 4th 
Bookings permitted Thursday- Sunday nights; some exclusions and exceptions may apply 

Site Information
Not assigned; first come, first served. Please be respectful of other vehicles and allow adequate room. 

Overnight RV Parking Area Information
Location: Happy Valley Parking Lot - 12 minute walk to Village Centre 
Access: Via Happy Valley Road (dirt road) 

Pricing
Overnight RV Parking Stall 
$10 per night
*Prices do not include taxes and fees. 

Booking Regulations
At least one member of the party must be 19 years or older
A maximum of six persons per RV stall including children
The maximum continuous length of stay is 4 nights (Thursday- Sunday, departing Monday) *some exclusions and exceptions may apply 

Booking Policies
Full payment required at time of bookings 
Cancellations permitted up to 48 hours prior to arrival without penalty 

Overnight RV Parking Area Rules
Consuming alcohol is prohibited in public areas (hiking trails, resort common areas) 
Vehicles must remain in parking lot
Pets must be on a leash
Happy Valley Outdoor Washroom Facility available - 5 minute walk from lot 

These facilities are only cleaned regularly between Thursday - Sunday

NO motorized recreational vehicles (ATV's, dirt bikes etc.) 
NO dumping station
NO garbage or recycling facility - do your part, pack out what you pack in

General Information and Safety
**No Smoking on hiking trails or while riding the lift due to extreme forest fire danger
No smoking is permitted anywhere in the Alpine

Stay on Designated Trails
Familiarize yourself with the trail route
Trails Maps are located in the Village and at the bottom of the Bullet Chair
Trails are physically marked with neon colored Inukshuk's
Stay on designated trails - leaving the trail will damage the fragile ecosystem of the mountain
Do not pick the wildflowers

Bear Aware
To avoid potential problems with bears, lock your food, garbage and cooking accessories away whenever you are asleep or not at your vehicle; maintain a clean area. Never feed or approach bears.
An encounter with a bear is something that visitors may experience when hiking and biking in the Alpine. Please remember that you are a guest in their home territory! Bears are beautiful creatures and deserve our respect.
Do not throw food or food waste into the forest, it can attract bears
Do not feed the wildlife
Hike and bike in your bubble and make lots of noise to deter any wildlife
Source here.
For booking inquiries and more information, email resortservices@bigwhite.com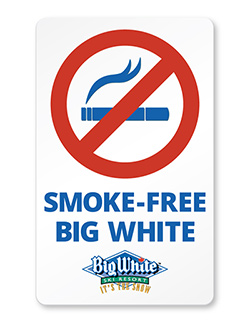 Smoking of any kind (including tobacco, marijuana, e-cigarettes and vaporizers) is strictly prohibited anywhere on Big White Ski Resort property outside of designated smoking areas. Applies to summer and winter seasons. Mountain Safety Info >>