When's the last time someone spent millions of dollars to show you a good time? It's been a tough couple of years for the ski industry, but we're on the road to recovery. We're investing millions in machinery, resort infrastructure, lift maintenance, staff accommodation upgrades, and more to ensure your visit to the resort isn't just back to normal, but better than ever before!
NEW (and OLD) at Big White Ski & Board School for 2023
The Big White Ski & Board School is excited to announce new program offerings, and the return of some old favourites, starting in January! After a couple of challenging years recruiting instructors due to the COVID-19 pandemic, the Ski & Board School is now fully staffed and ready to welcome skiers and snowboarders of all abilities, ages and aspirations for 2023.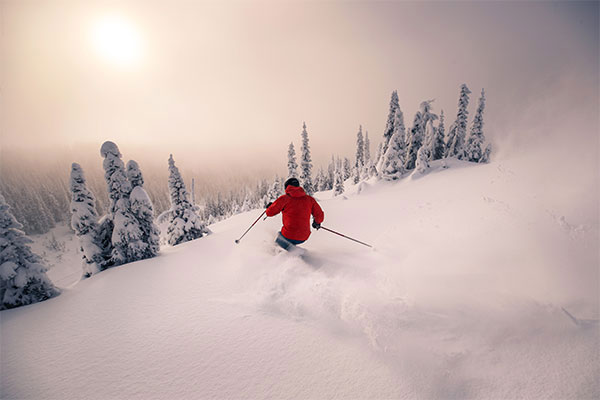 NEW - VISITOR'S TOOLBOX
Whether it's your first time visiting Big White Ski Resort or your twentieth, this program is for you! Get to know the resort as well as our instructors do as they show you hidden gems, and give you tips on the terrain based on your ability level. From green runs to cliff drops, powder bowls, glades, moguls, and everything in between, our
Visitors Tool Box
program will help you build confidence and show you how to use your equipment to your advantage, all while ensuring you have a great time doing it! This program runs Monday to Friday, 9am to 12:30pm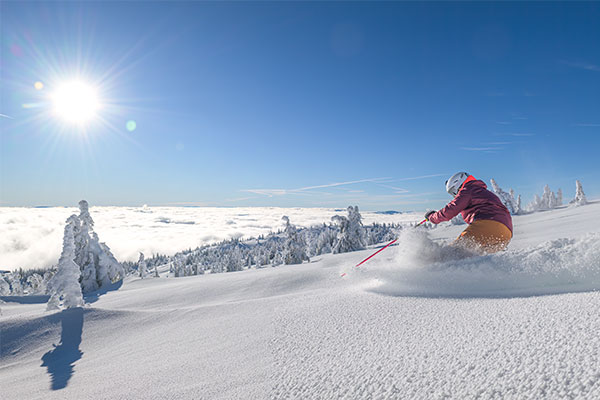 NEW - ESCAPE THE OFFICE
This one's for you, locals! Set your "Out of Office," and head up the mountain for four consecutive Fridays in January, February, or March. Our
Escape the Office
program is designed to match your work/life balance by providing four-hour lessons on Friday mornings, giving you the afternoon to answer emails and wrap up your work week. You'll be grouped with others based on your ability level, and have the same instructor for all four sessions, with an après event on the final Friday to meet all of the other participants in the program. Four sessions available in January, February or March.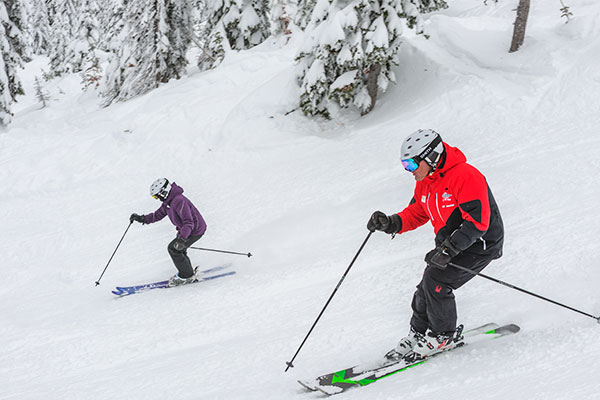 NEW - LEARN TO KEEP UP
Can't keep up with the kids anymore? Or worried you'll injure yourself even trying? Join our Ski & Snowboard pros over the span of nine consecutive Saturdays starting January 7 to improve your skills, gain confidence, and learn how to make your equipment work for you – all with the added benefit of learning from the same instructor. The only person who will be shocked by your improvement besides your kid (or kids) will be you! This nine-week program is available for Level 4 to Level 7 skiers and snowboarders, includes two après events with all of the other participants.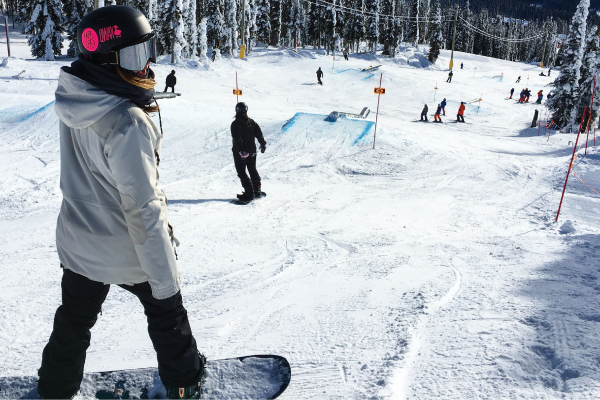 RETURNING - PARK CHICS
Looking to up your park game? Join
Park Chics
, a team of female snowboard and ski coaches that take female-identifying riders through the terrain park every Friday night. Run by girls for girls, Park Chics caters to all levels, from beginners through to advanced. Single sessions or a Park Chics Pass available for purchase.  Join any Friday night of your choosing from January 6 until the end of the season.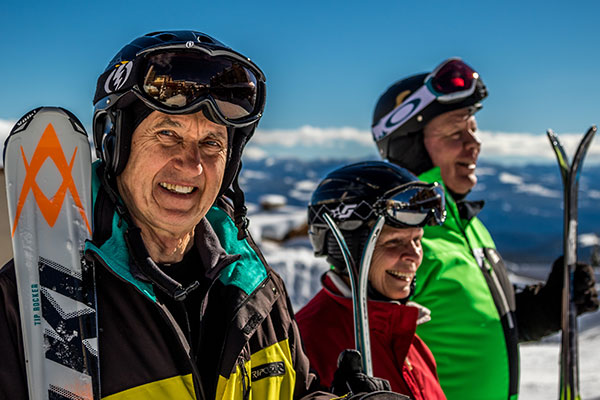 RETURNING - MASTERS' MONDAY
Mondays are for the Masters! If you are 50-plus, join us for
Masters' Mondays
! Come meet like-minded snow-sports enthusiasts and take your skiing or snowboarding to a whole new level, whatever your ability! The day includes a 2-hour group lesson with our world-class instructors, followed by a healthy lunch (plus a glass of wine!) prepared by Big White's expert chefs, single session or a four-session pack available.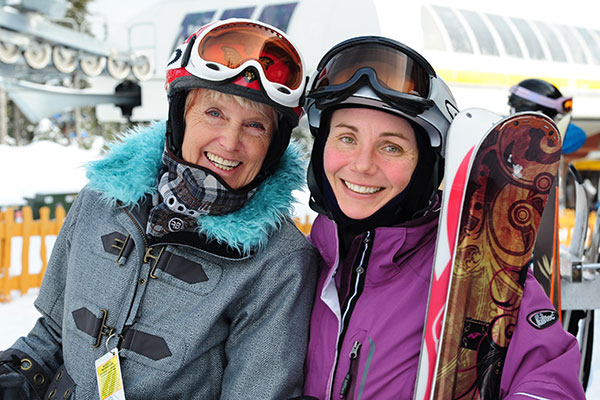 RETURNING - LADIES CLUB
Calling all ladies! Wednesdays are for the girls – join other female skiers and snowboarders of similar abilities for a 2-hour group lesson, light healthy lunch and a glass of wine every Wednesday for $120 per session, or $400 for a four-session pack.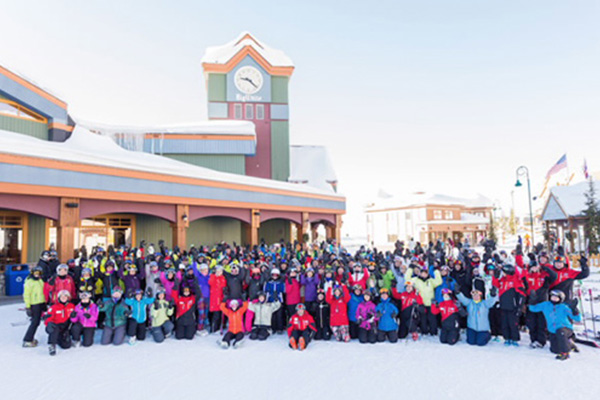 RETURNING - MASTERS' WEEK
Big White Ski Resort's
Masters' Weeks
are week-long sessions designed specifically for the 50-plus skier, beginner or expert. Held three times throughout the winter season, Masters' Week evolved from Big White's well-established Masters' Monday program, combining the best conditions the resort has to offer with exclusive après events. Session dates are: January 23-27, February 20-24, and March 27-31.
Can't find a program for you? Check out all of the Big White Ski & Board School offerings, including Private Lessons, Group Lessons, First Track lessons, and more, here.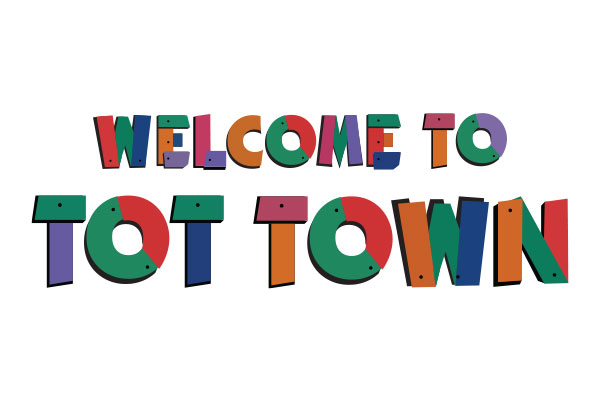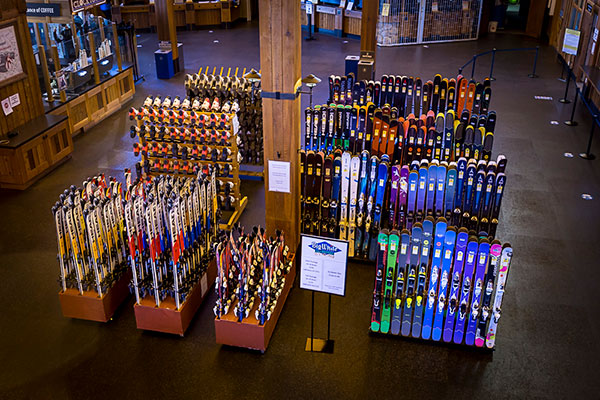 RENTAL SHOP EXPANSION
The Rental Shop in the Village Centre Mall is expanding by approximately 350 sq. ft. to make the guest check-in experience run smoother.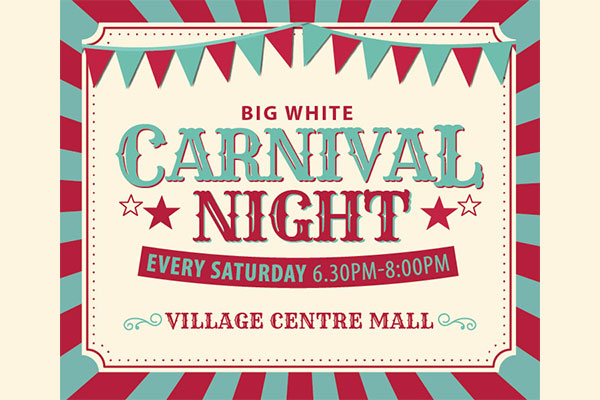 RETURN OF WEEKLY SCHEDULED EVENTS
Our events team is bringing back our much loved weekly event schedule, including Tuesday Bingo Nights, Moose Tube Time on Friday nights, and Saturday Kids' Carnival!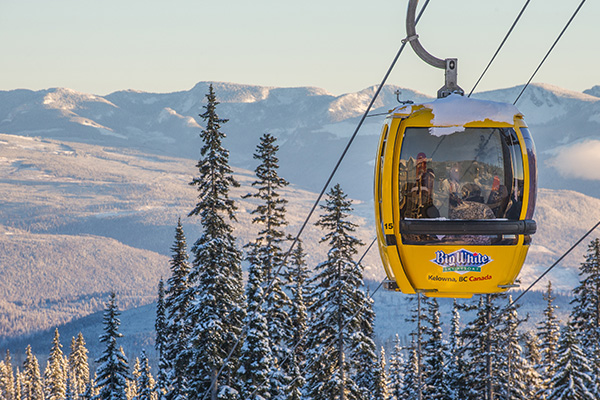 NEW GONDOLA CABINS
Lara's Gondola will have 16 shiny new cabins for you to enjoy on your trip from Happy Valley up to the Village Centre and back!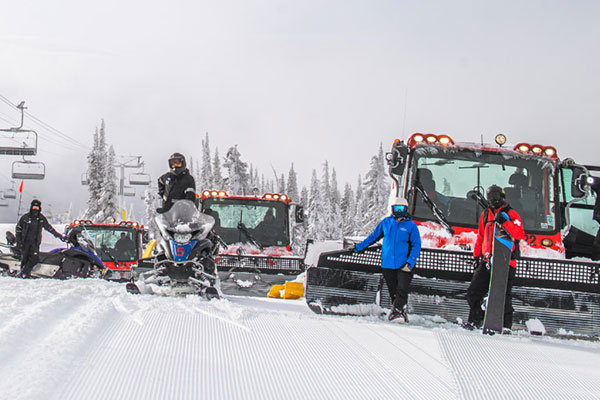 TWO NEW GROOMING MACHINES
Love corduroy? Well, do we have a treat for you! We're adding two, brand-new grooming machine to our already impressive fleet, bringing the total to 12. If you know of any drivers, please have them
apply
!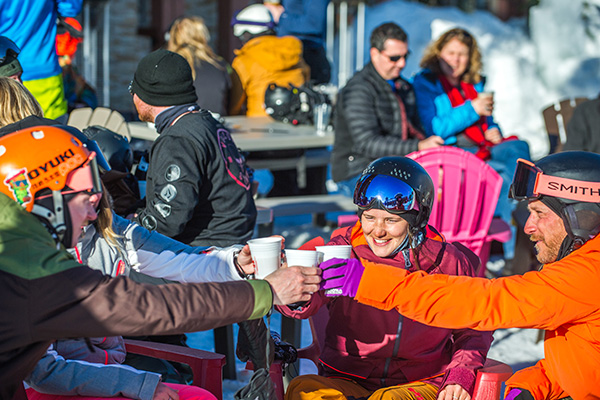 COMPANY-WIDE WAGE INCREASE
We're setting the industry standard in the ski world for wages – so our staff will not only love playing in the snow, they'll love working in it, too! In all areas managed by Big White Ski Resort, we'll be increasing hourly and salary wages.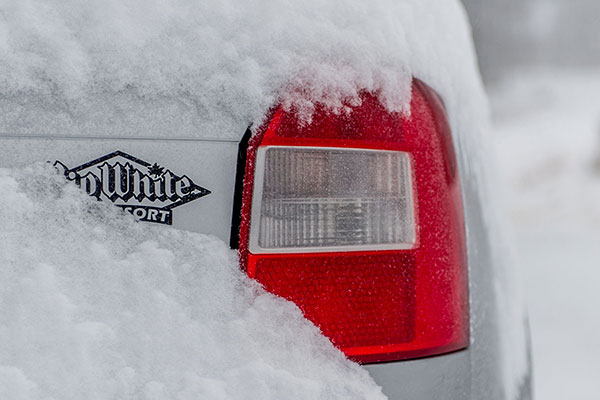 BLACK FOREST IMPROVEMENTS
Not only did we make you a new skier bridge at the Black Forest, we're also paving the road to the Black Forest Day Lodge!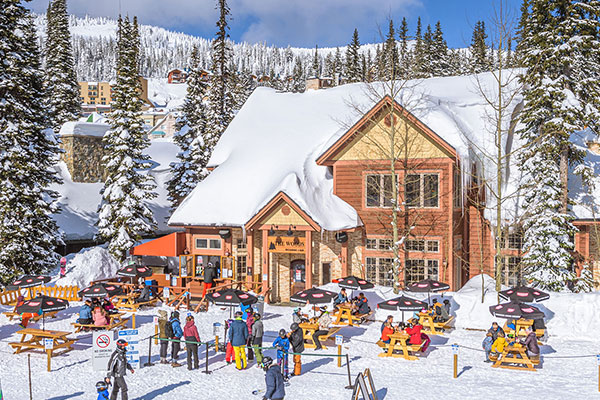 BUILDING UPGRADES
Expect to see a new roof while riding up the Plaza chairlift! We've replaced the roof on the Administration building. We've also upgraded our staff accommodation, painted the outside of the Village Centre Mall and renovated the Ski School Call Centre!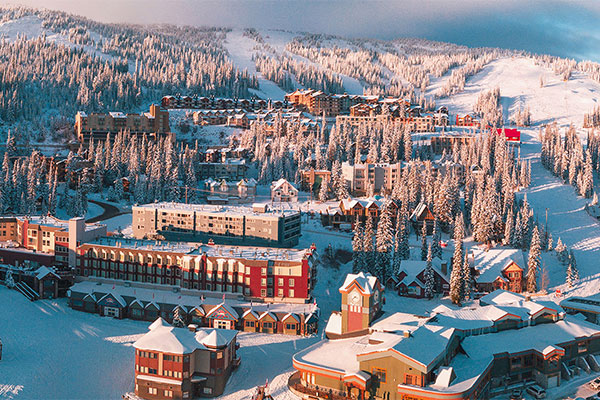 ENVIRONMENTALLY FRIENDLY FUEL DELIVERY SYSTEM
We're installing state-of-the-art environmentally friendly, anti-spill fuel delivery systems made especially for alpine environments.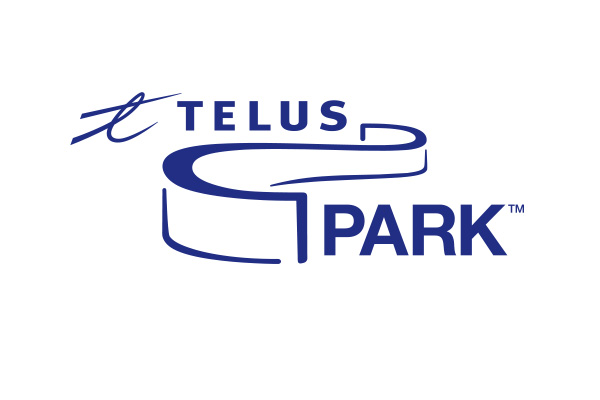 NEW HAUL ROPE FOR TELUS PARK CHAIR
The haul rope on the TELUS Park Chairlift will be replaced in time for the new ski season.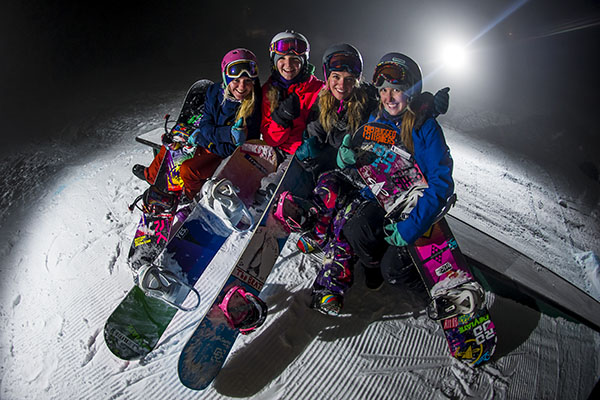 NIGHT SKIING IS BACK
After a two-season hiatus, our night skiing program will return for the winter 2022/23 ski season. Big White is home to the largest area of night skiing terrain in Western Canada, offering up 38 acres, 15 hectares, of lit-up terrain once the sun goes down. Night skiing is accessible via the Plaza Chair, Bullet Chair, and TELUS Park Chair on select evenings of the week.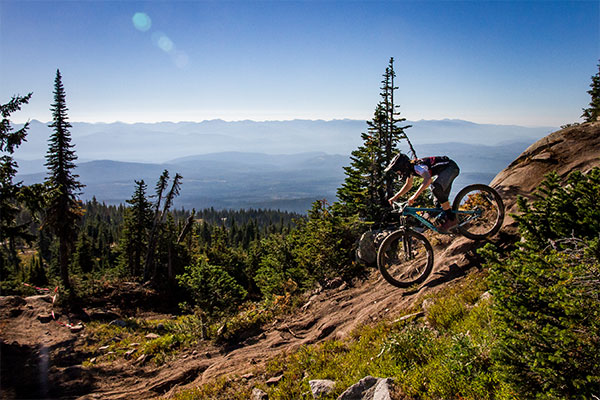 BIKE PARK UPGRADES
BC's newest lift-accessed bike park continues to improve, expand and become a hot destination for mountain bikers from all over North America.
2021/22 Resort Developments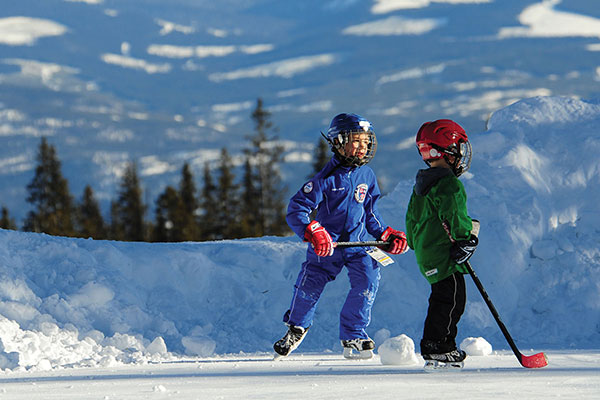 SKATING & TUBING ARE BACK: While not technically "new," we sure are excited to announce that skating and tubing will be back in Happy Valley after a year hiatus!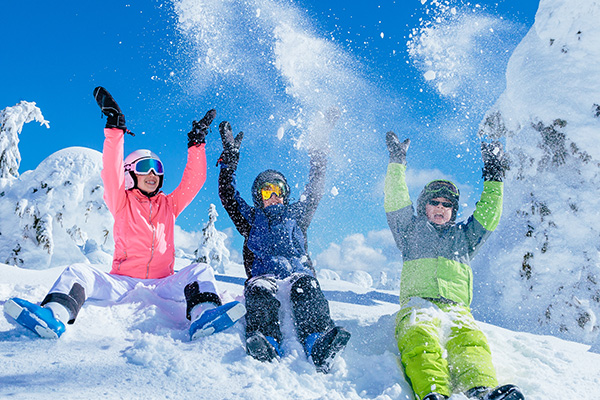 SEASON-LONG RENTALS: In addition to our successful seasonal ski rental program for the 12 and under passholders we're delighted to advise that we're offering seasonal SNOWBOARD rentals for them this year. And, while we're sharing good news, we're adding in season-long ski rentals for passholders aged 13-18. Numbers are limited so make sure to get in soon, as these rental packages will sell out before the start of the season - don't miss out!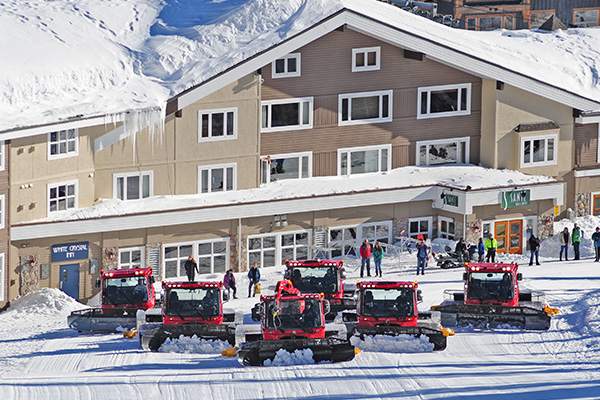 NEW GROOMER: Yep, that's right! Our already-close-to-perfect corduroy is about to get more perfect. We usually replace at least one groomer a year, but due to the pandemic, we skipped a year. You can expect to see this beauty zippin' up and down your favourite blues and greens over the season!
UPGRADES TO EXISTING SITES: The Happy Valley Day Lodge is getting a makeover! It'll look completely different next time you see it, with a new exterior paint job. (PS: the Happy Valley Cabins are also getting a facelift!). The Village Centre Mall is also getting a bit of exterior maintenance, and Dizzy's and The Woods, just across the way, are both getting new shingles. We're also putting some work in to make our staff more comfortable while they live on-mountain, replacing furniture and appliances, painting, installing new flooring and making other minor renovations to our staff accommodation.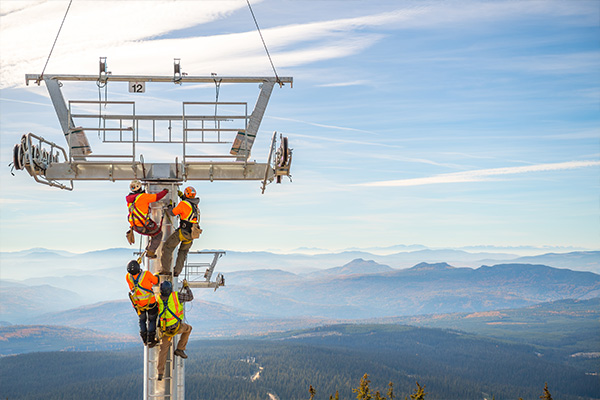 UPDATING CHAIRLIFTS: Both the Plaza and Bullet Chair (the gateways to your favourite beginner terrain!) will have brand-new drive equipment installed in time for the upcoming season!