Book Online & Save 10%
Whether you are a beginner, an expert, or somewhere in the middle, we have got great rental equipment for everybody. Avoid the hassle and expense of travelling with your own equipment by renting from our fleet. Please note rentals cannot be booked online after 2pm PST for the following day. These rentals must be completed in store at the full rental rate.
*Please note: Not all of our rental products are available to be booked online and are only available in store on the day of at the full rental rate.
Benefits of Renting on the Mountain:
If you're after skis, snowboards, snowblades or nordic skis, you'll find everything you need in our Big White Rental Shop, conveniently situated in the Village Centre Mall in the heart of Big White.
Switch it up during your rental and try different skis or snowboards from our fleet (High Performance renters only).
Switch from skiing to snowboarding or vice versa as well as trying nordic skiing or snowshoeing as much as you like during your rental at no charge.
If anything doesn't fit quite right, you can come back into the rental shop to switch it over or have one of our friendly staff make adjustments to keep you comfortable.
Children under the age of 13 will receive a complimentary helmet when renting a full set of equipment from the Rental Shop (excludes Under 13 Kids' Season Passholder Season Renters).
In addition to any waiver you may have signed online or at the ticket office, you will be required to sign a physical copy of the Winter Rental Waiver when picking up your equipment. Any renter 18 years old or younger needs to have a parent or legal guardian sign on their behalf. Please email rentals@bigwhite.com to make alternative arrangements The below waiver is for reference only. Printed copies will not be accepted at the Rental Shop.
Winter Rental Waiver >>
All renters require a photo identification document as well as a valid credit card for a security deposit (Visa Debit, MasterCard Debit, Travel Money Cards and other prepaid credit cards are NOT Accepted as security swipe). Renters under the age of 16 should be accompanied by a parent or guardian who will need to sign the rental contract on their behalf.
Contact Us
---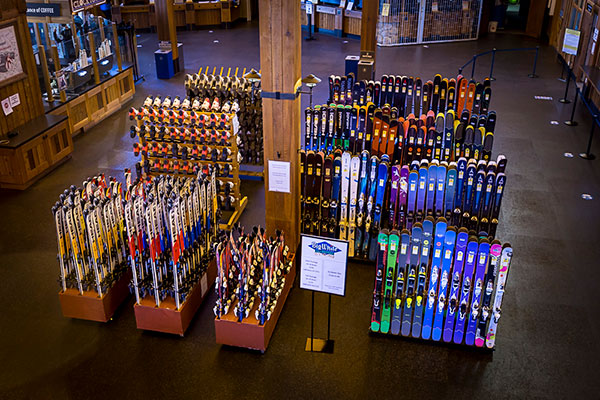 Our regular skis are perfect for beginners and early intermediates hitting the groomers as well as carrying the leading brands in the ski industry for our high performance fleet including Armada, Atomic, Blizzard, Elan, Head, K2, Line, Nordica, and Salomon. With every ski ability in mind, we have the right skis for you. Comfort is key with rental boots that fit. We carry different models of boots to make sure we have the right boots on hand for you.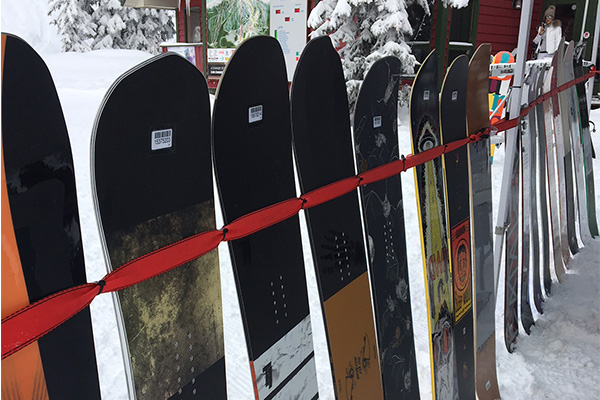 Snowboarder renters enjoy the ease of use of our Head or Salomon Boa Rental Boots, which perfectly complement our Head and Nitro regular snowboards which will keep you progressing. Or try out the latest high performance boards from Bataleon, Burton, Jones, Never Summer, Nitro, Rome, Salomon and Yes.
We have all the gear you need to explore over 25km of Nordic Trails & Snowshoe trails. From classic or skate cross-country skis to deep powder snowshoes, we can help you take your adventure to the next level.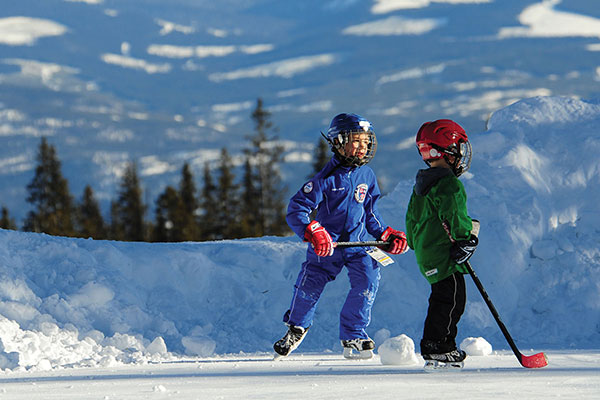 Ice Skate Rentals available at the Happy Valley Rental shop. We carry skates (Recreation, Hockey & Figure) as well as helmets and hockey sticks for rental (pucks available to be purchased).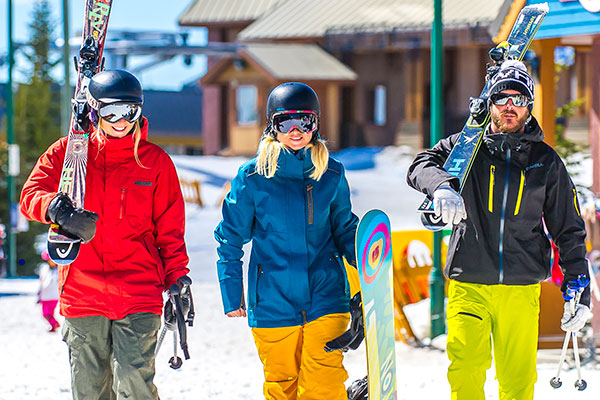 The Rental Shop in the Village Centre Mall has rental jackets and pants to keep you toasty warm so you can get the most out of your day.
Frequently Asked Questions:
Where do I pick up my equipment?
All rental equipment (except skates and hockey equipment) can be picked up from the Rental Shop in the Village Centre Mall (VCM). Skates and hockey equipment are in our Rental Shop on the lower level of the Happy Valley Day Lodge.
Can we pick up our equipment the day before?
Yes, and we welcome it. Different days will have different pick up times depending on if there is night skiing so please check our website for the most up to date Next Day Rental pick up times.
When night skiing is not running – 2:00-3:30pm
When night skiing is running – 6:00-7:30pm
What do I need in order to rent?
All renters are required to bring a valid physical credit card and photo ID for a security swipe (Visa/MasterCard Debit, travel money cards, other pre-paid credit cards and Apple/Samsung Pay are NOT accepted for the security swipe). If you have reserved your equipment online, please have your Order Number on hand on arrival.
What if I do not have a credit card?
Not to worry, we can take a cash or debit card deposit on your equipment. The amounts will vary depending on the equipment being rented. High Performance equipment CANNOT be rented without a valid credit card. Please note that debit deposits are not automatically refunded when the equipment is returned, you must return to our cashiers for your deposit refund.
What is your refund policy?
To receive a refund on your online rental, all cancellations must be made 48 hours in advance. Please forward your email confirmation to rentals@bigwhite.com with your request to cancel.
Can I change my reservation?
Yes, please email rentals@bigwhite.com or call us on 250-491-6114 to make a change to your booking. Please have your Order Number on hand.
What if I return my equipment early?
We'll refund you for the remaining whole days that you won't use your equipment. Gear returned after 9 AM will be charged for that day.
Why can I not book my equipment online?
Single items such as boots, helmets or poles plus clothing, snowshoes and XC equipment can only be rented on walk-in first-come, first-served basis.
What is the High Performance option?
Our High Performance fleet is made up of demo skis and boards that our affiliated retail stores stock so you can try before you buy. Ask about our demo program if you are looking to buy. This equipment is designed for the intermediate and above user and comes in all shapes and sizes so you can pick a model that suits your ability, your preferred terrain and the conditions on the day.
Specific skis and boards from our High Performance range are based on availability at the time of pick up.
Children's High Performance skis start at 140cm. We do not have specific children's high performance boards, however our women's range starts at 138cm.
Can I purchase my rental equipment before/after renting?
No, but you can buy skis and snowboards at our affiliated retail locations on the mountain. Ask about our demo program.
How does the demo program work?
Looking to buy new skis or a board? Talk to our friendly staff at Dizzy's Ski Shop or The Rider, choose 1-4 models that you would like to try out, then let our Rental Shop staff know your choices. We will do our best to get you a few runs on each model throughout the day (availability may be limited during the holiday periods). If there is a standout winner and you are ready to pull the trigger, then we will credit your 1-day rental fee against the new purchase price.
Can I choose my skis or board?
Once you arrive our expert team members will recommend a ski or board for you based on your skier type, local conditions and your personal details. Please let them know if there is a specific model you would like to try and we will get it set up if it is available or help to recommend something similar. We do not take reservations for specific models, each piece of equipment is on a first-come, first-served basis each day.
Can I exchange my skis?
Yes, you can swap out your skis any time within the same performance level at no charge. If you would like to try a better ski, ask our staff about upgrading to High Performance. There will be an upgrade fee for the day plus any future days being upgraded.
Can I bring my own boots?
Of course. On the equipment selection page (Step 3) un-check the box by boots when you pick your package. Please be aware that your boots MUST pass our visual safety inspection and conform to boot sole norms that are compatible with our bindings. If we cannot guarantee the safe release of your boots from our bindings then we will not be able to use your boots with our skis.
Can I rent just boots?
You can rent boots by themselves on a first-come, first-serve basis. We don't take online reservations. Please be advised that our rental shop cannot adjust your ski bindings to fit our rental boots.
Here's why: This is because we cannot ensure the safe adjustment of non-rental bindings to fit rental boots. We wish we could, but this is a safety and liability issue, not a customer service issue.
Why not?
Many non-rental skis have retail bindings with a fixed toe. This limits how much the binding can be adjusted, meaning a very narrow range of boots will fit in the binding space safely. We will endeavor to select a boot that fits both foot and the binding space. We cannot set the DIN on your bindings with our rental boots because we cannot guarantee that the boot/binding combination will release if you have an accident.
Our repair shop can check your skis' bindings and fit the rental boots to your skis.
The Repair Shop technician will check the industry indemnification list to ensure your bindings can be safely adjusted. If your bindings are not listed, the technician cannot adjust your bindings. If the bindings are listed, the technician will run a test on the Wintersteiger calibrator to confirm that your bindings fall within acceptable DIN standards. The Repair Shop charge is $25 (plus taxes) for a calibration and, unfortunately, you may be in for a lengthy wait as the Repair Shop is frequently very busy. This fee is payable irrespective of whether the bindings pass or fail the test.
Given the above, you may wish to consider renting a full set of ski equipment as an alternative.
What happens if I damage my rental equipment?
If you purchase the Equipment Damage Protection Plan, you are covered within reason for any accidental damage caused to the equipment. The EDPP does not cover damage caused by improper or reckless use of the equipment, nor does it cover loss or theft of the equipment. Please remember never to leave the equipment unattended. By declining the EDDP, you are liable for the cost of the repair or to replace the equipment at full retail value if said equipment cannot be repaired.
Do you have larger sized ski and snowboard boots?
We do, up to size US16 (mondo 34) for skis and US14.5 (mondo 32.5) for snowboards. Sizes cannot be reserved, they are on a first-come, first served basis. (We have lots available so there is no need to worry).
Do you have toddler sized ski and snowboard boots?
We do, down to US kids size 7-8 (mondo 14.5) for skis and US kids size 8-9 (mondo 15.5) for snowboards. Sizes cannot be reserved, they are on a first-come, first served basis. (We have lots available so there is no need to worry).
Can I exchange my ski rental for a snowboard?
Yes, you can swap out your ski gear to snowboard gear (or vice versa) at any time within the same performance level. If you need to add boots there will be an additional charge. This does NOT apply to our season rental program.
Can you deliver my equipment to my hotel?
Not yet. We hope this is a service we can offer in the future but for the time being each renter must come to the Rental Shop for fitting.
Do you have larger sized ski and snowboard boots?
We do, up to size US16 (mondo 34) for skis and US14.5 (mondo 32.5) for snowboards. Sizes cannot be reserved, they are on a first-come, first served basis. (We have lots available so there is no need to worry).
Do you rent helmets?
We do. You can add helmets to your rental package or pick one up on a first-come, first-serve basis at the shop. We don't take reservations for helmets by themselves. Although helmets aren't required, we strongly recommend them for anyone hitting the slopes.
Can I take a day off in the middle of my rental?
Our multi-day rentals are for consecutive days only. If you wish to take a break in the middle of your trip, you will need to return your gear and re-rent. It's not all bad though, if you were happy with the equipment, let our staff know and we can provide you with the same gear to speed things up.
Do you have ski clothing available for rent?
We have jackets and pants (plus bodysuits for kids) available to rent on a walk-in basis from our main rental shop in the VCM. We do not rent gloves, goggles or socks, but these items are available for purchase at multiple stores in the same building.
Do you have winter boots available for rent?
We have a limited selection of adult winter boots available to rent on a walk-in first-come, first-served basis from our main rental shop in the VCM.
Can I store my regular shoes or belongings while I ski/board?
We have a limited amount of space in the Rental Shop for you to store your regular shoes while you enjoy the slopes. We cannot store other items such as clothing or backpacks, but there are lockers on the lower level for these larger items. We do not take any responsibility for items left in the Rental Shop.
Can you store my equipment overnight?
Unfortunately, we do not have the space to store your equipment overnight. Your accommodation should provide you with appropriate storage options for you to use during your stay. Please do not leave rental equipment in the outside ski racks overnight.
My child is coming with a group, and I will not be there. Do I need to sign a liability waiver?
We require a parent or legal guardian to sign a release of liability on behalf of an unaccompanied person younger than 16 years old. Even if you have signed the online waiver when you made your reservation, we still require a physical copy. Download, complete and print this waiver and send it with your child. They will not be able to participate if the release is not signed. No exceptions.
What equipment rentals are eligible for the 10% passholders discount?
All walk-in equipment rentals from our main rental shop in the VCM are eligible for the discount by showing your seasons pass to our cashiers at the time of payment. The passholder discount does not apply to online reservations as they are already discounted. Please note our Equipment Damage Protection Plan is not subject to the discount.
How do I determine my skier type?
RELEASE PREFERENCE
Choosing Your Release Preference is Your Responsibility The factors that determine the release setting on your ski bindings include your height, weight, age, boot sole length, and your personal release preference. You are responsible for determining your own release preference based upon the chart below and for informing the ski shop technician of your preference. Your ski shop technician cannot make this determination for you. Be sure to provide accurate information regarding your height, weight, age and personal release preference. Errors may increase your risk of injury.
Type I: Entry-level skiers who are uncertain of their preference. Entry-level skiers and skiers who designate themselves as Type I receive lower than average ski binding release settings. This corresponds to easier ski binding release in a fall.
Type II: Most skiers are satisfied with a Type II setting. Skiers who designate themselves as Type II receive average ski binding release settings appropriate for most recreational skiing.
Type III: Skiers who designate themselves as Type III receive higher than average release settings. This corresponds to decreased risk of inadvertent binding release and increased risk of non-release. This classification is not recommended for skiers 47 lbs. (21 kg) and under.
If from experience, you have been dissatisfied with the release settings that result from your release preference, mention this to your binding ski shop technician.
What is your refund policy?
If you are visiting for the day, park in the main Happy Valley car park and catch Lara's Gondola to the VCM. There is a 15 minute short term parking at the front of the VCM that can be used, however it can take longer than this to fit your equipment depending on the time of the day.
What if the weather is bad?
Sorry, there are no refunds or credit vouchers due to wind, weather or snow conditions. Instances where all lifts are closed for the remainder of the day will be reviewed on a case by case basis.
What sizes of XC skis do you have?
We carry Classic skis ranging from 120cm to 206cm and Skate skis ranging from 160cm to 190cm. We will determine your recommended length based on the manufacturer's user weight chart. All XC rentals are on a walk-in first-come, first-served basis.
I have my own XC boots, can I rent just skis and poles?
Yes, our XC ski bindings are compatible with NNN and Prolink boots. All XC rentals are on a walk-in first-come, first-served basis.
Can you sharpen my skates?
We do offer a skate sharpening service however we may not have a staff member scheduled that can sharpen your skates. rentals@bigwhite.com to check if this will be available when you need it.