Pet Friendly Accommodation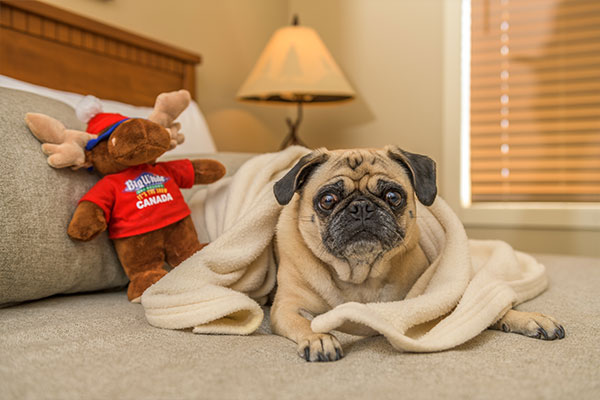 If you can't bear the thought of leaving your beloved pet at home when you go on your winter vacation, there are a number of accommodation choices at Big White that will cater for your four-legged member of the family - and dogs love the mountain just as much as people do!
Pet friendly room are available at the Inn at Big White, Bullet Creek Cabin, Eagles Resort, Sundance Resort and Trappers Crossing.
Superior Hotel Rooms and 1 Bedroom Suites at the Inn at Big White
Studios, 1, 2 & 3 Bedroom Suites at Sundance Resort
Explorer Cabins with private hot tub at Sundance Resort
1 and 3 Bedroom units with private hot tub at Trappers Crossing
2 Bedroom Vacation home with private hot tub at Bullet Creek Cabins
3 Bedroom Condominium at Eagles Resort
Ask an Expert: Traveling With Pets to Big White Ski Resort
Big White Ski Resort is known for being exceptionally family-friendly, but what you maybe didn't know, was that we include pets in our definition of family. So, if you're thinking of coming for a visit, don't let your four-legged family members hold you back! 
We chatted with Mark, a travel blogger from Melbourne, Australia, about how he prepares for holidays with his bestie, Mya. Together, they form Mark and Mya's Adventures, a blog and social profile dedicated to navigating international travel and outdoor escapades with a furry sidekick – while at the same time raising awareness and support for rescue organizations around the world.
Mya, a five-year-old purebred white shepherd, has been Mark's sidekick on adventures to Hollywood, Las Vegas and Niagara Falls, to name a few. They first visited Big White last winter, and came back again this January because, as Mark says, they "love Big White."
Read the full Blog here