Our Gondola Sanitization Process – What You Need to Know
Posted On: December 10, 2020 |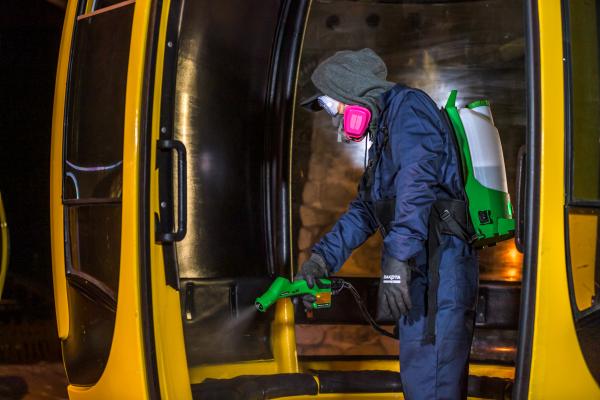 At Big White Ski Resort, we are committed to enforcing the absolute BEST cleaning protocols in all of our public spaces. We've told you about the process in our hotels, and around the resort, and now we want to share with you a little bit about the process in our gondola cabins.

READ MORE: From Check-In to Check-Out – Staying (Safe) With Big White Central Reservations
In the initial weeks of opening, our team was spraying down the gondola cabins on an hourly basis with the Cobalt Electric Atomizer Fogger, an electrostatic fogging machine. Now, thanks to AEGIS® Microbe Shield, we were able to sanitize all 24 of the cabins on Saturday night– and won't need another application for the rest of this ski season
 
The wearable fogger contains a disinfectant called Microban – a protective coating that molecularly bonds with products upon application and is registered through Health Canada. The protective coating can last up to a year and will be tested regularly to ensure effectiveness.