Kelsey Serwa Takes Gold at Final Race of the 2019/2020 Season
Posted On: April 17, 2019 |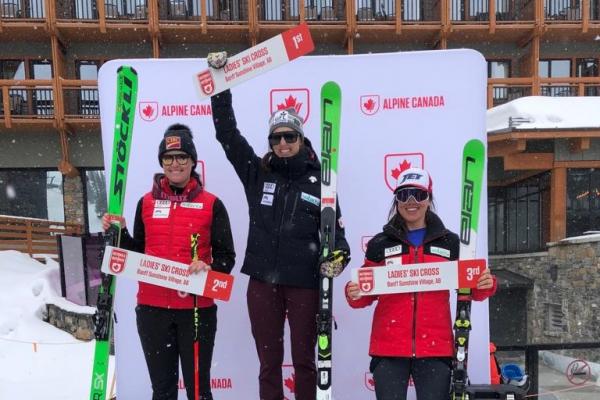 Photo Credit: Alpine Canada

Big White Athlete and Olympic Champion Kelsey Serwa took home gold at the the 2019 Canadian Ski Cross Championship at Sunshine Village on Sunday. This event was Serwa's final race of the season.
"It's always nice to wrap up the season with a fun race and a solid performance and that was exactly what happened this past weekend at Sunshine Resort, AB for Canadian Nationals," Serwa told Big White. "Despite the springtime squalls, the races went off on schedule and volunteers and racers alike all had smiles on our races. I feel fortunate to end my 10th season racing ski cross 100 per cent healthy and with two more victories under my belt."
The 29-year-old stood on the same podium the day before for the NorAm race, with Whistler's Marielle Thompson taking second and Edmonton's Abby McEwen in third in both Saturday's and Sunday's events.
"To be part of Kelsey's excellent sporting record is an honour for all of us at Big White Ski Resort," says Michael J. Ballingall, Senior Vice President at Big White. "Whether it's these two wins, her first Vancouver Olympic games, or her silver medal, or, to top it off, the gold medal, she has always given us a warm, family friendly feeling on what can be accomplished when you put your mind to it."
Serwa learned how to ski at Big White Ski Resort – which her grandfather, Cliff Serwa, co-founded in the early 1960s. She has 20 World Cup podium finishes, is an Olympic Gold and Silver Medalist, World Champion, 2-time X-Games gold medalist, 2-time Olympian, 2-time South American Champion, and now, a 3-time National Champion.
Read more about Kelsey Serwa, here.