Skier visits up on Christmas Eve Day and Christmas Day
Posted On: December 26, 2018 |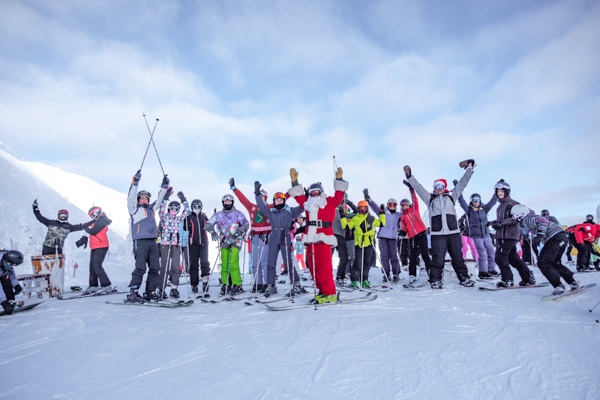 We wrapped 281 empty boxes and cooked 549 kilograms of turkey. We decorated 38 trees with 2.27 kilometres – or 315 strings with 22,050 bulbs – of lights. The 271 songs on our Christmas playlist in the Village Centre Mall each played 5 times, and Santa heard wishes from 1,229 good girls and boys, big and small, from as many as 12 different countries – as well as wishes from 31 4-legged good girls and boys.

In a swirl of snow, one of the most anticipated days of the season, second only to Opening Day, has come and gone.
"Mother Nature has gifted us this very special place, and we, in turn, get to share it with families from around the world," says Michael J. Ballingal, Senior Vice President of Big White Ski Resort. "When the resort opened 55 years ago, we maybe put up one tree. Now, we have dozens. We have kilometres of lights. And all of this is to celebrate the Spirit of Christmas."
On Christmas Eve day and Christmas Day, skier visits to the resort increased by 6 per cent from last year – including a visit from the big guy, himself. Santa landed at Big White on Christmas morning after a long night delivering toys and hit the slopes with around 50 other skiers and snowboarders. While he's now returned home to the North Pole, he was sure to leave one last gift for our guests: the Gem Lake Chair started spinning Wednesday morning, bringing our total run count to 87 out of 119. 
On Christmas Eve, we hosted our inaugural Christmas Eve Festival. The event replaced our annual Christmas Parade and was a huge success, attended by around 5,500 guests, with 10 family-friendly activity booths set up and a fireworks display with 900 bursts to end the night. Santa read stories to children, and the Grinch was out spreading holiday fear!
We want to thank everyone who came out and took part in the festivities, as well as acknowledge the incredible amount of time and energy our staff put in to make this place the magical snow globe it is.
"Christmas is certainly a busy time of year at Big White and everyone works really hard to make the magic happen," says Bethan Wetheral, Guest Services Manager at Big White Ski Resort, and Chairperson of the Christmas Committee, which received $22,000 in funding from the Tourism Big White Society.
"The planning for our new Christmas Eve Festival started in August and to see the dream come to life is so rewarding for everyone involved," she says. "This couldn't have happened without all of the staff here at Big White and a big congratulations is in order. Time to celebrate!"