5-Million Rides & 500 Kilometres of Toilet Paper – Big White's Season by the Numbers
Posted On: April 25, 2019 |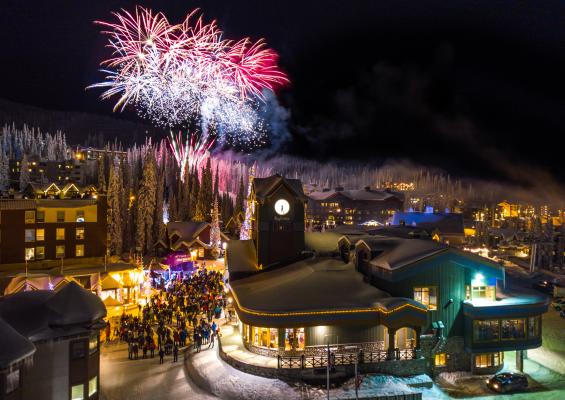 The snow is melting, the fences are being rolled up and hundreds of Big White Ski Resort employees are jumping on planes and heading back to their homes around the world or returning to their spring and summer jobs in the Okanagan. It was another epic winter, and to prove to you just how epic, we've broken down the season by numbers. 
From Opening Day on November 22 to Closing Day on April 22, the resort gave a record-breaking five million rides up its lifts. We saw a total of 682 cm of snow, with the largest dump received in a 24-hour period, 28 cm, happening on February 22, and 90 cm falling between February 18 and February 24. In fact, February was Big White's best month for snow – 170 cm fell during the shortest month of the year. And, on February 6, the mountain saw temperatures dip to -22C – warming up significantly six weeks later to 9C on March 20.
On New Year's Eve Day, with bluebird conditions, the resort hosted over 11,000 skier visits who enjoyed over 70,000 runs – making it Big White's busiest day on record. Throughout the season, our Central Reservations team fielded 33,208 phone calls, and organized airport transfers for 21,043 people.
The Ticketing department sold 9,356 night skiing tickets on our $10 Friday Nights, and redeemed 1,797 boarding passes with our WestJet and Alaska Airlines Ski Free on the Same Day of Arrival deal. There were 31,857 rides down the lanes at our Tube Park.
The 215 instructors at the Big White Ski & Board School gave 62,000 lessons in 13 languages throughout the season, assisted by 13 sales desk staff and 18 resort care attendants. There were 4,840 first-time skiers and snowboarders in those lessons, and 240 never-evers attended our four Never Ever Days.
The Kids' Centre had over 28,000 registrations in group lessons alone. Our After School Program hosted 1,108 local children and our Daycare staff minded a total of 630 children.
Our Facebook page saw 11,795 new likes and our Instagram account 30,720 new followers, while page views of our website reached 8,967,319.
The Big White snow hosts gave free mountain tours to 1,750 skiers and snowboarders, and the events team handed out 7,200 Coast Capital Savings Cruz the Blues t-shirts, and 4,420 bags of popcorn and 6,700 sticks of cotton candy, for free, at the Family Channel Carnival Nights. Guest Services' staff replaced 1,620 rolls, or 493,776 meters, of toilet paper.
In preparation for the Christmas holidays, we wrapped 281 empty boxes, cooked 549 kilograms of turkey and decorated 38 trees with 2.27 kilometres – or 315 strings with 22,050 bulbs – of lights. On the days leading up to Christmas, Santa posed for 420 pictures with excited children and heard wishes from 1,229 good girls and boys and 31 from 4-legged good girls and boys.
Clocktower Coffee made 41,555 shots of espresso and sold 6,234 chocolate chip cookies. The Kettle Valley Steakhouse carved up 210 50 oz Tomahawk steaks. Across all Big White-owned establishments, 10,372 litres of milk, 21,600 kgs of french fries, 5,480 kgs of burger was used. We sold 8,714 poutines, and Moose Lounge whipped up 2,169 of its longboard nachos and poured 35,214 sleeves of beer.
At Globe Cafe, 3,240 house-made marshmallows were toasted table-side and enjoyed by children and their parents this season. And, the Gunbarrel Grill fired up 2,569 of its famous Gunbarrel Coffees – 151 more than the previous season.
All 1,200 Big White team members want to send out a huge thank you to everyone who helped us reach these numbers and make it another epic season for the books.