Posted On: February 17, 2020 |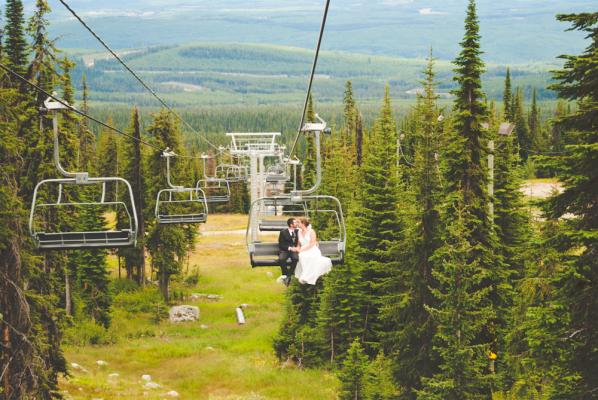 Big White Ski Resort is truly a magical place – made even more magical by the people who ski, snowboard, stay and play throughout the year. In this blog, we'll share the stories of people who have fallen in love with one another, who have been proposed to and who have said "I Do" at the resort.
Desiree & Ryan – A Prank Proposal to Remember
Ontario couple Ryan Tremblay and Desiree Paiha, took the next step in their relationship this past Valentine's Day – but not without a hiccup for Desiree! The pair were cruising up the Bullet Chair when Ryan pulled out an engagement ring, only to toss it into the snow far below.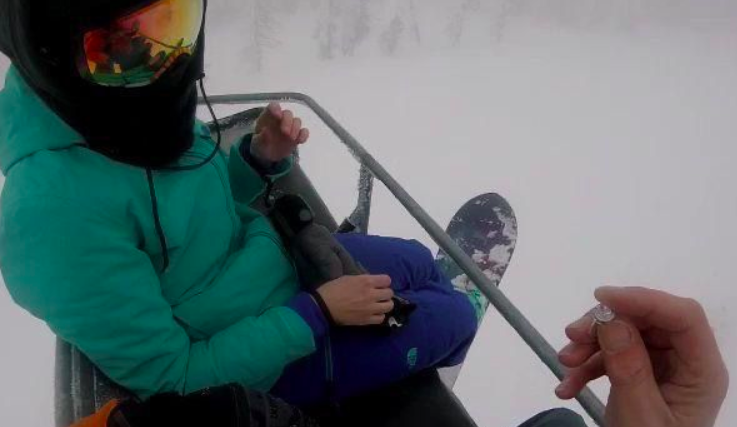 "My heart dropped when he dropped the ring," Desiree told NowMedia. "My first reaction was to lift the safety bar, luckily he stopped me from doing it."
Luckily for her, Ryan had the real ring tucked safely away, and pulled it out for the real deal once they got to the top. 
"We are currently visiting from Ontario," Desiree told Big White. "We hit up different mountains each year out west and have been planning Big White for a while! We love snow ghosts! We have been together for 5 years and love shredding snow together." 
Congrats you two lovebirds!
Read the KelownaNow story, here.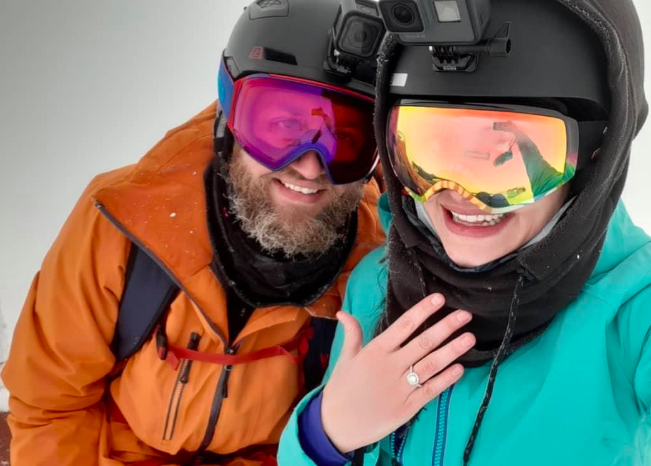 Tim & Jasmine – Nothin' But Snow and Love
Jasmine, a Kelowna local, and Tim, a British snowboarder, met five years ago at Big White while he was completing his "Nothing But Snow" snowboard instructor training. "We met on a night out at Sessions and, what should have been nothing more than a fling, turned into a real connection," she says. "He is British and I'm Canadian so we had all odds stacked against us. After a few months of hanging out, his return flight was looming in the near future."
But that return home didn't last long, and he came back to his Canadian girlfriend on a holiday visa. On Closing Day 2018, Tim got down on one knee and popped the question at the top of the T-Bar.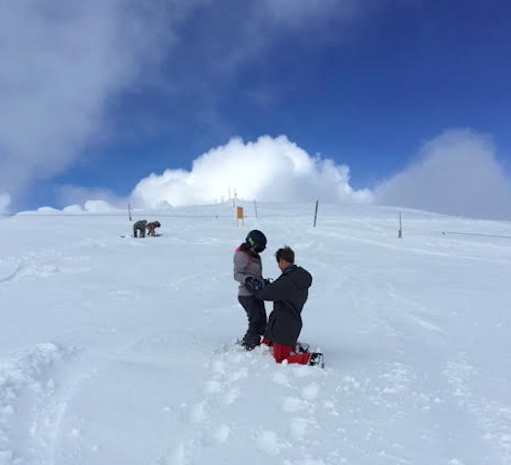 In February, 2020, Jasmine and her bridesmaids celebrated her Bachelorette Party at Big White, dancing at Snowshoe Sam's, wearing matching flannels, attempting the escape rooms at Session's, and gliding through the snow on a horse-drawn sleigh. "My sister and two best friends know exactly how special this little piece of paradise is to Tim and I so they nabbed a condo for the weekend," Jasmine told Big White.
The pair plan to get married in summer of 2020, and return to Canada to live full-time.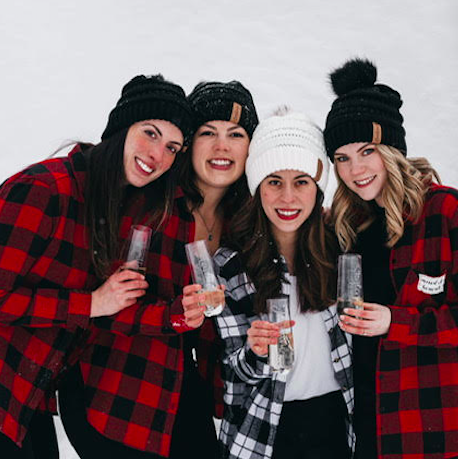 Ben & Cassandra – Down on One Knee from Down Under
On February 5, 2020, Gold Coast couple Ben and Cassandra decided to go for a walk down the Nordic trails at Big White and find a nice quiet spot to build a snow man. 
"Once we finally managed to make a lopsided disproportionate snowman, Ben grabbed some sticks for me to make his face," Cassandra says. "I was super focused and made a comment about not being able to make the eyes look right. Ben didn't reply to me so I turned around annoyed he wasn't listening and he was down on one knee with a ring on his hand."
And, she said "yes!" To make sure she was surprised, Ben had to hide the ring while going through airport security and in a jug in a cupboard in their apartment that she wouldn't have been able to reach. 
This was the couple's first time to Big White, and Cassandra says they'll definitely be back.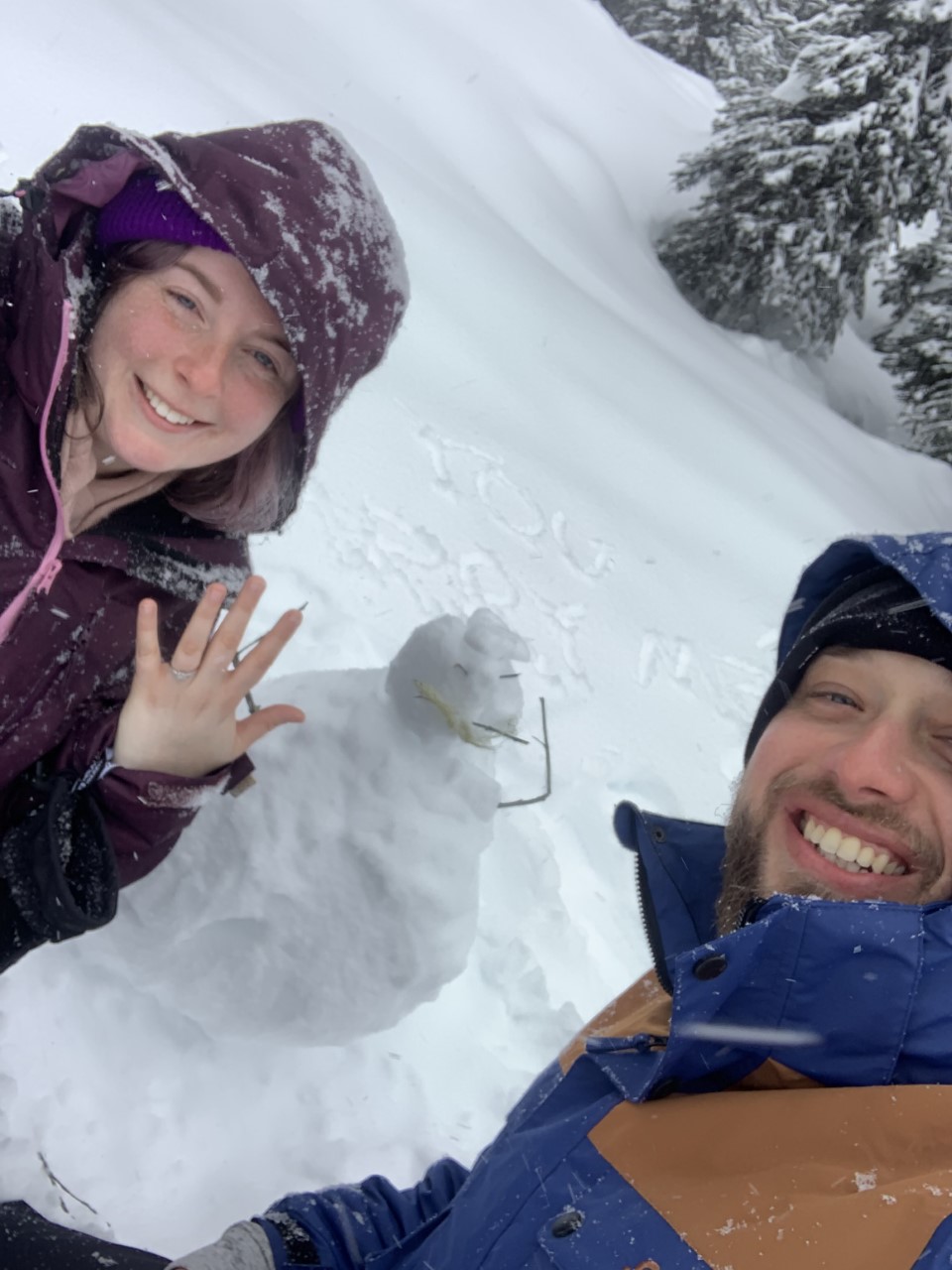 Matt & Katie - An Extra Special Winter Getaway
After visiting Big White eight times, Matt, who's from Queensland, AUS, fell in love with the mountain. When he found out that his girlfriend Katie had never experienced snow he had to change that! He started planning their trip to the mountain for January 2019 and he wanted to make it extra special – and what better way than with a proposal! 
"It was a beautiful blue bird day that we'd spent on the slopes and we decided to finish with a stroll down past the ice tower," he says. "With no one in sight, I perched my GoPro to take photos of the sunset, little did she know it was filming. I dropped a knee and carefully opened the box and popped the question." 
They celebrated at the Gun Barrel Grill where they were well taken care of by the staff and felt special on their momentous occasion! 
"Big White holds a new special place in my heart. One I get to share with my fiancé and we can't wait to make it back next year to make new memories."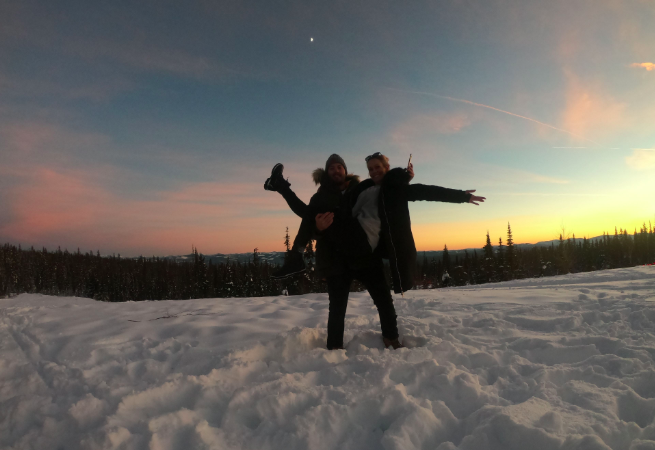 Simon & Ruth - Locked in Love
Simon and Ruth, from Sydney, Australia, first came to Big White in 2004. They immediately fell in love with the Village, the people, the terrain and the snow! When their 25th wedding anniversary rolled round in 2014, Ruth surprised Simon with an engraved "Love Lock."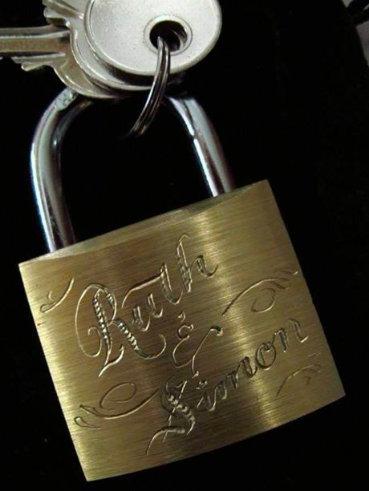 "I had seen similar locks on a trip to London the previous year. Lovers would attach their lock to a bridge then throw the key in the river below. Our lock came from our local DIY hardware store and the engraving was done at the local shopping centre. The hardest part was figuring out where to place the lock that wouldn't cause any damage and remain relatively inconspicuous," Ruth says.
On the night of their wedding anniversary, they had dinner at the Kettle Valley Steak House, then attached the lock to the fence at the top of the Gondola. Each year, they make a pilgrimage to check on our lock. Last year, for their 30th anniversary, they left another lock close to the first one. "To us, they symbolize our ongoing commitment, loyalty and love."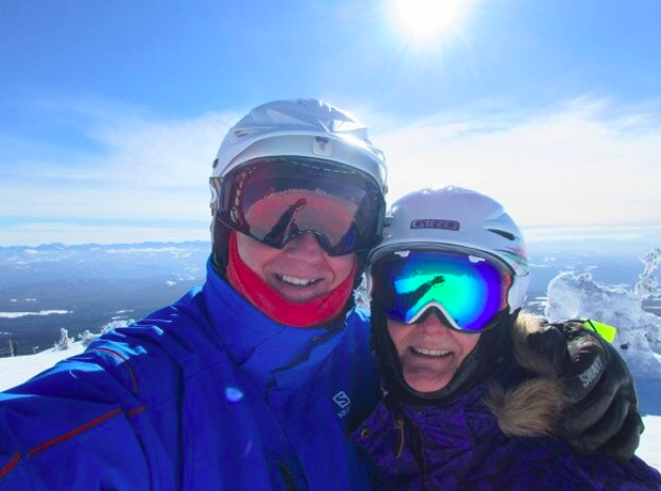 Tannis & Crystal - Great Minds Propose Alike
Tannis was going to propose to Crystal, and Crystal to Tannis – both had planned for Big White, and neither knew of the others' plans. So when they took a trip to Big White, a place they both love, over New Years Eve in 2017, there was a surprise in store.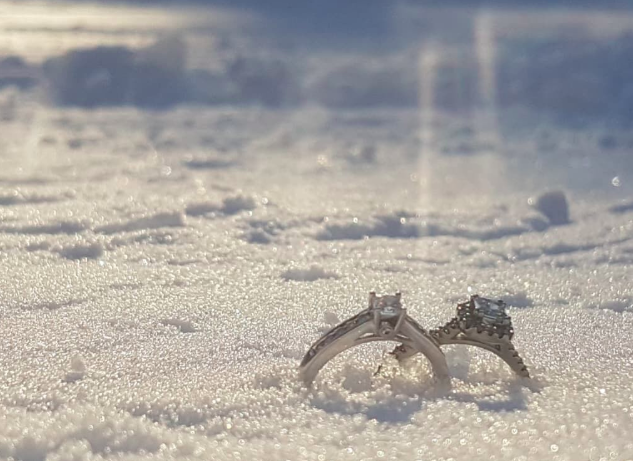 "As we were leaving we went up Gem Chair lift and when we got to the top of Village Way I suggested we stop for a picture," Crystal says. "As we were getting ready, I asked my fiance and she she said, 'Yes, but I have something better,' and she pulled out my ring and asked me!"
The couple has been together for 5 1/2 years, and love the powder, views, the atmosphere and how everyone at Big White is so friendly and welcoming.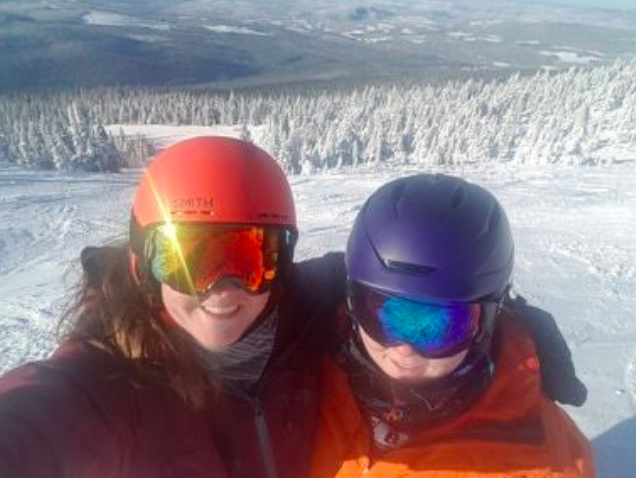 Toby & Mimi – 20 Years of Big White Love
Toby and Mimi met while working together at the Original Loose Moose during the epic 1998-99 winter season. Toby was travelling Canada for a year and Mimi was a local (Kelowna) girl doing her first season on the mountain. The couple became a "couple" after the staff Christmas Party in early January. Since that night, they've been together.
Mimi spent a year working in Australia, then became a permanent resident in 2002. The couple moved back to Canada permanently Christmas 2009, and now we live in Northern Alberta with two beautiful boys – Henrik, 6, and Fraser, 2.
"We have always called Big White home and have been back as many times as we can in summer and winter," Toby says. "We celebrated 20 years together with a belated mountain getaway in February 2019. I was most recently there two weeks ago with my boys while I caught up with my best mate from Australia as he visited Big White for the first time."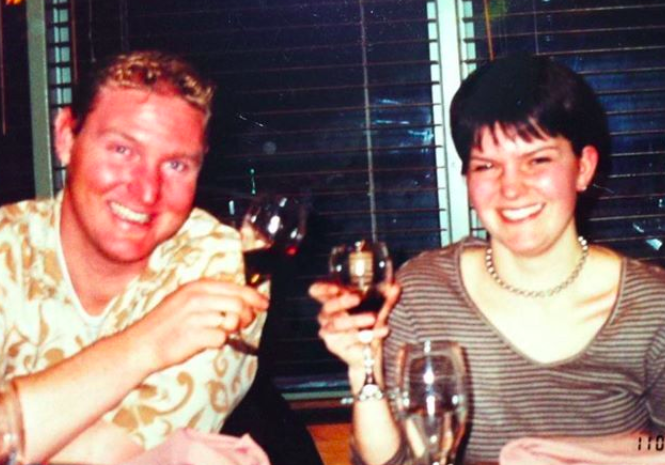 Anna & David – To the (Honey)Moon and Back Again
Irish couple, Anna and David, got engaged at Tignes Ski Resort in the Alps – but chose Big White Ski Resort as their honeymoon destination. It was the first time they'd skied a North American resort – and loved it so much they came back two years later, the year after that and this year! Next January, they plan on coming for five weeks to celebrate David's 50th birthday!
"What do we love most about Big White?" Anna asks. "Easy! It's the snow!!!"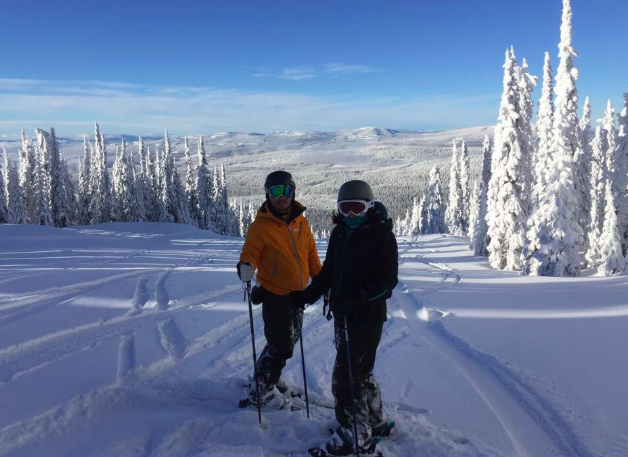 Have a Big White love story you'd like to share? Send an email to kbraun@bigwhite.com to be featured!