Driving to Big White - Parking is Free!
Big White Ski Resort is located 56 km (35 mi) southeast of Kelowna, the largest city in the Okanagan Valley. In the summer, it's an easy 55-minute drive from Kelowna.
Directions from Kelowna: Follow Highway 33 for 32 km (20 mi) until you reach Big White Road. Turn onto Big White Road and follow it for another 24 km (15 mi) until you arrive in the main village, where you'll find free parking at the Village Centre Mall with additional parking at Happy Valley on Saturdays and Sundays. Hiking trails, scenic chairlift rides, washroom facilities and restaurants are all easily assessed from the Village Centre Mall area.
Please note there is no parking available at the base of the Bullet Express Chairlift.
Tips for the Road
Please beware of wildlife on the road! Cows and deer are regularly spotted on Big White road during the summer; be sure to also keep an eye out for elk, moose and bears.
Speed limits are for dry conditions. Weather in the alpine can change quickly to become wet or even snowy. Keep in mind that it can take about three times as long, or as far, to stop in wet conditions than it does on dry pavement. Keep at least three times normal distance between you and the car in front.
Be extra cautious in danger zones: intersections, lane changes, turns, stops.
Be sure to have a full tank of gas before coming up to the mountain. There is no petrol available at Big White. The last petrol station before Big White is located on Highway 33 in Black Mountain.
For up-to-date highway conditions, please see the BC Highways Ministry road report.
Contact Us
Direct: (250)765-8888
Toll Free: 1-800-663-2772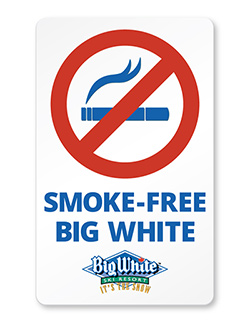 Smoking of any kind (including tobacco, marijuana, e-cigarettes and vaporizers) is strictly prohibited anywhere on Big White Ski Resort property outside of designated smoking areas. Applies to summer and winter seasons. Mountain Safety Info >>