Patio Season is Upon Us! Our Top Spots for Soaking Up Vitamin D at Big White
Posted On: March 05, 2020 |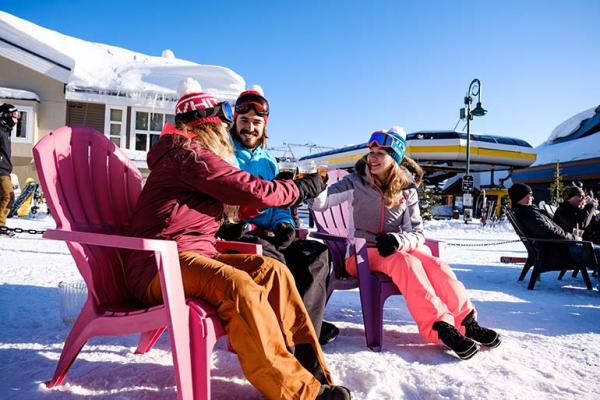 It's nearly skiing-in-your-sweater, cold-beer-to-cool-down weather at Big White Ski Resort. To get you as excited about the longer days as we are, we've compiled a list of the best patios to relax, imbibe and perfect your goggle tan at this Spring!
The Woods
Smack-dab in the middle of the Village, The Woods' outdoor beer garden is the place to go to cool down after a day skiing in the sun with a frothy, ice-cold sleeve of craft brew. Pair that sunshine and beer with a delicious burger, and you've got yourself the perfect apres afternoon. 
Sessions Taphouse & Grill 
Located slope-side on Perfection run, ski right onto the massive deck at Sessions Taphouse and enjoy a pint of Elevation 57 beer, brewed right on site – or try one of their classic-Canadian fully-loaded caesars! Watch skiers and snowboarders zip by on their last runs of the day, then soak in the last rays of sun as it sets over the Monashee mountains.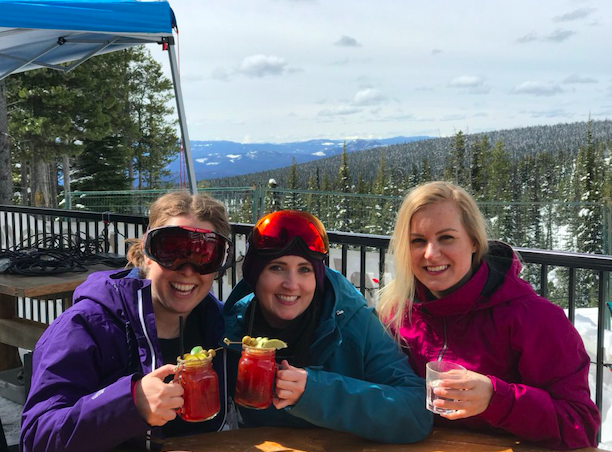 The Bullwheel Family Gastro Pub
Looking for views anytime of the day? The Bullwheel Gastro Pub, located in the White Crystal Inn and right next to Lara's Gondola, will take your breath away, morning, noon and night! The lively atmosphere, kid-friendly menu, and multiple happy hours throughout the day make for an epic patio sesh with family or friends!
The Blarney Stone Irish Tavern
Yep – Big White is home to a lot of "Canada's Highest Altitude" attractions, including Canada's Highest Altitude Irish Pub! Check that one off your bucket list! With a vibe similar to your friend's backyard (if your friend served you up Guiness stew and moonlighted as a DJ), The Blarney Stone's patio at the Inn at Big White is a must during your visit to Big White.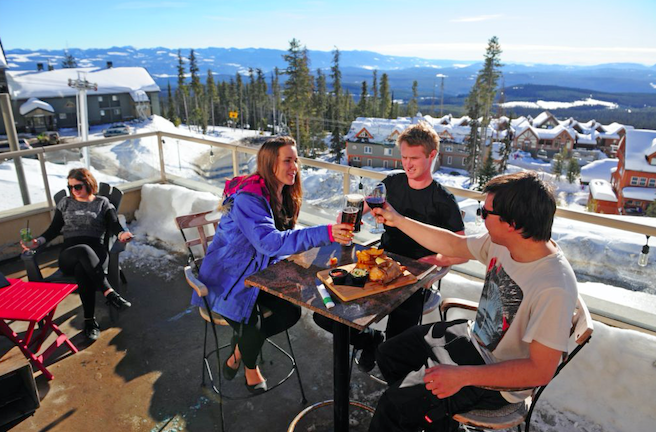 Blackforest Day Lodge
Maybe not your typical "patio," the outdoor space at the Blackforest Day Lodge is the perfect place to take a pitstop mid-day. Grab a beer, something to mow down on, and give those ski legs a break.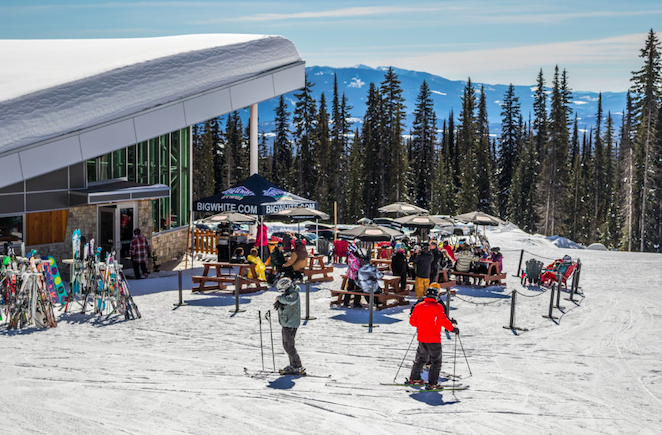 Got a Patio/Deck at Your Home-Away-From-Home?
There's no place like home (away-from-home)! Stock up your hotel room, condo or townhouse with locally crafted beer, wine and spirits at the Big White Beer & Wine Store in the bottom level of Village Centre Mall, then put on a pair of pjs, and enjoy patio views in the comfort of your own space. 
Find a full list of Big White dining options, here.