The repairs shop will be operating as a first come first served basis starting Nov 20, 2023.
Hours of Operation
November 20 - December 4
9:00am - 4:00pm
December 5 - April 7
8:30am - 4:30pm daily
The Big White Repair Shop is located on the lower floor of the Village Centre Mall building.
The Big White Repair Shop can look after all of your tuning, repair, mounting and calibration requirements. At Big White we have invested in state-of-the-art technology which enables our experienced technicians to tune your equipment to your exact specifications. The same world class results, guaranteed, every time.
The repair technician will examine your equipment and recommend what service will be best for your equipment.
The Mercury tuning machine has been recently fully serviced and is ready to give consistent, high quality tunes. New protocols have been implemented to keep tunes consistent throughout the whole season.
Ski and Board Service Rates
Service
Price
Machine Wax
$15
Iron Wax
$25
Ceramic Disk Sharpen*
$30
Ceramic Disk Sharpen and Iron Wax*
$50
Performance Tune
(Stone Grind, Ceramic Disk Sharpen, Detune, Machine Wax)
$70
High Performance Tune
(Base Repair, Stone Grind, Ceramic Disk Sharpen, Detune, Machine Wax)
$80+
Ski Binding Adjustment and Calibration
$25
Ski Binding Mount/Remount and Calibration
$60
Shop Rate Per Hour
$80
Major repairs, delamination's, base patches, and edge replacements will be assessed and quoted by our technicians.
Prices do not include tax and are subject to change without notice.
*Ceramic Disk Sharpen is only recommended if you have a flat base. The ceramic disks we use to sharpen equipment cannot sharpen the base bevel if the base is not flat. In some cases, a stone grind (Performance Tune) will be required to get a proper base bevel. This option is more of a side edge sharpen only if the base is not flat.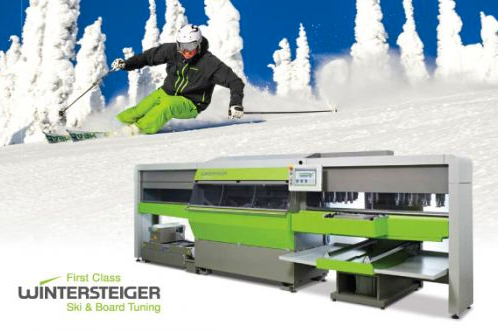 Maintain Your Equipment with Wintersteiger Mercury Ski Tuning Machine!
Today's specialty skis and boards require expert attention to ensure edge bevels, base structures and edge finishes are precisely maintained in order to get the maximum performance from them. In addition to using our Mercury to provide great tunes to Big White's guests' equipment we also use it to service our entire rental fleet. The high quality of maintenance on the rental fleet ensures that those learning to ski or board will have a better, easier learning experience due to the consistent, precise performance of their rental gear.
Benefits to Customers:
Enhanced speed of service
Consistent quality of tuning
Custom tuning – get your equipment tuned just the way you like it
Importance of Ski Binding Adjustment
Your bindings must be set to an international standard known as DIN which requires very specific calculations based on your personal height, weight, age, ski boot sole length and skier ability level. Having your bindings set correctly ensures that you and your skis will remain connected unless you have a crash at which time they need to release to minimize harm to you. Bindings don't last forever. There is a list of indemnified bindings published annually and once a binding model is no longer on this list it is considered unsafe to use. Our Wintersteiger Speedtronic Calibrator is itself calibrated yearly to make certain that it is accurate. Don't find out the hard way - have your bindings inspected and calibrated annually.
How The Wintersteiger works!
Contact Us: