Driving to Big White - Day Parking is Free!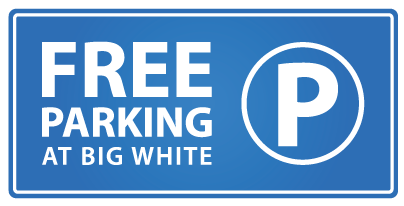 PARKING ON VILLAGE ROADS IS PROHIBITED BY LAW. TICKETS AND TOWING CAN OCCUR AT ANYTIME.
Big White Ski Resort is 56 km (35 mi) South East of Kelowna, the largest city in the Okanagan Valley. From Kelowna, follow Highway 33 for 32 km (20 mi) until you reach Big White Road. Another 24 km (15 mi) and you will arrive in the main village where you'll find Central Mountain Check-In and our hotels. View Maps >>

FREE DAY PARKING
Day parking is available at Gem Lake, Ridge, Black Forest and Happy Valley parking lots. Parking will be limited, these lots are for day parking ONLY.
Skiers who need rentals or other equipment should park in Happy Valley and take a free gondola ride on Lara's Gondola to the Village, where our main tickets office, rentals, retail and other services are located.
No snowmobile loading/unloading, storage of trailers, storage of vehicles is permitted in any parking facility belonging to Big White Ski Resort Ltd.
Big White Ski Resort ltd. has a number of private parking lots that are reserved for day use visitors only. Limited overnight parking is available by permit only, and only in the Happy Valley long term parking lot.

Overnight Parking & RV Parking - PERMIT ONLY
Parking permits can be obtained at Central Mountain Check In for overflow overnight parking:
Overnight permit cost $20/night per vehicle. No utility trailers permitted.
Weekly permits cost $100/week per vehicle
RV's and/or campers permits cost $50/night per RV/camper - 7 night a season maximum
Vehicles without a permit will be towed at the owners expense.
Vehicles must be parked in the Happy Valley Overflow parking lot and must be moved every 7 days for our snow removal team. Valid permits must be displayed on the dash of your vehicle. We do not have any services for RV's at this time. Rules regarding parking are posted on signs in each parking lot. Please abide by the parking rules posted throughout the resort by private operators, the Ministry of highways, building managers, the Big White Fire Department, the Regional District, all signage in all parking facilities and display permit as per instructions.

Guests of Central Reservations
Overnight guests of Big White Central Reservations receive complimentary parking either at the accommodation booked or in Happy Valley parking lot. Parking passes are available from at Front Desk upon check in.  Additional vehicle parking is based on availability, there will be a demand for parking at Big White Ski Resort this year.
Electric Vehicle Charging Stations
100kW, 200A rapid charging stations are strategically positioned within the Happy Valley Parking lot, providing easy access for visitors and guests. With most electric car charging stations just over 50 kilometres away, the new charging stations will ultimately provide improved accessibility and convenience for electric car drivers. Learn more
Please ride share/carpool when available.
For road clearing, snow removal, inquiries and general feedback, please contact AIM Roads at: 1.866.222.4204
Drive BC & Road Conditions
When Do You Need Winter Tires or Snow Chains?
If you plan to travel British Columbia roadways when wintry conditions are a possibility, you should carry chains and be prepared to install them if needed. When you come to a posted sign on the highway stating "Winter Tires or Chains Are Required Beyond This Point", you must be ready to install chains or have proper winter tread tires before proceeding.
Should you go beyond that point without the proper equipment, you may be subject to a fine. If road conditions worsen, be sure to install your chains before you reach an uphill grade.

Pay attention to whether approaching vehicles are using chains or having difficulty. If you have any doubts, chain up before proceeding.

When you encounter a sign or flashing amber lights with a message that indicates vehicles over a certain posted GVW (gross vehicle weight) must chain up, then carrying the chains is no longer sufficient.

The tire chains MUST be installed at that point. Failure to do so may result in a fine or other enforcement action. Proceeding without the proper equipment installed could also cause you to lose control of your vehicle, endangering your own life and the lives of others.
Winter Tires
Transport Canada recommends the use of a winter tire that has been rated for severe snow conditions. These tires have a pictograph of a mountain peak with snowflakes on the side. In section 208 (1) of B.C.'s Motor Vehicle Act there is a more specific definition of "winter tire."
Tires marked with the pictograph of a peaked mountain with a snowflake meet specific snow traction performance requirements, and have been designed specifically for use in severe snow conditions.
Tips for the Road
Speed limits are for dry conditions. Keep in mind that it can take about three times as long, or as far, to stop on snow and ice than it does on dry pavement. Keep at least three times normal distance between you and the car in front.
Be extra cautious in danger zones: intersections, lane changes, turns, stops.
In snow, tires barely grab the road, so accelerate, turn and stop gently.
Accelerate and brake on straight-aways where possible, gently in either case.
If ice and bare patches alternate, brake in the bare spots and coast over the ice. Apply that same rationale to bridges, which freeze before roadways, and try to reach "bridge speed" before you get there.
Use your lights on low beam and if you can't see the edge of the road, use roadside reflectors to guide you.
When descending a hill, your maximum safe speed should be at the crest.
Four-wheel-drive owners: Even though your system is great for moving around in the snow, it doesn't help you slow down! Word to the wise: slow down safely!
A word about snowplow drivers. They're up when you're asleep, work in conditions you avoid in order to clear your way to the slopes. So be kind, give the plow plenty of room and keep your beams low. Above all, be like a tortoise and practice patience.
For up-to-date highway conditions, please see the BC Highways Ministry road report.