Be Water Wise… Tips to Conserve Water at Big White Ski Resort
Posted On: December 13, 2022 |
Big White Ski Resort is home to some of the cleanest and freshest water in the entire world, and we need your help to ensure it stays that way!
 To be "Water Wise" is to consider the social, environmental and economic value of water and to use it responsibly.

Effective stewardship requires collaboration and concerted action from all parties, including Big White Ski Resort Ltd, its employees and guests, local residents and local independent business owners. It is the responsibility of all to be Water Wise which not only lessens the strain on local water and sewage infrastructure when the resort is at its busiest but lessens the environmental impact both as a resort business and as individuals

The water that supplies Big White Ski Resort comes directly from Rhonda Lake – the lake that's tucked right into the base of the Cliff. It's 6,600 feet above sea level and holds about 75 million gallons of fresh, clean mountain water.
Water from Rhonda Lake is sent all the way down the mountain to arrive at the Water Treatment plant, a big red building which sits on the run "Highway 33." Once at the plant, the water goes through a filtration system which immediately removes any suspended solids. At the end of the process, the product is comparable to bottled water. In fact, tests done on Big White's water found that it was cleaner than the distilled water that can be purchased in local supermarkets.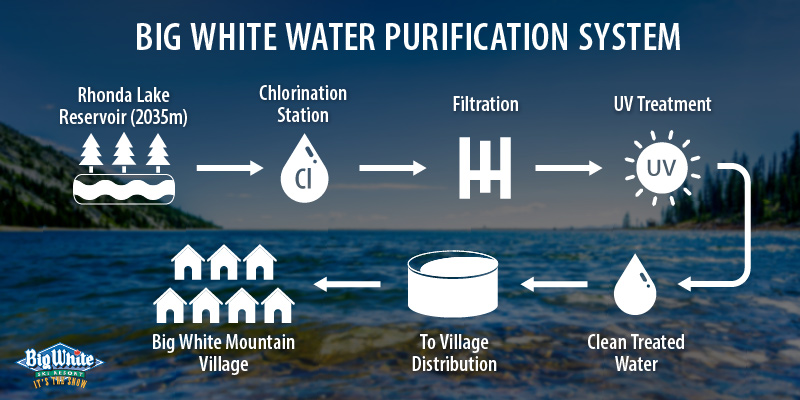 In 2017, the resort invested in treatment for Lake Paul, a lake located at the base of the Powder Chair. This development finished tying the lake into the water system, accessing another 60 million gallons of usable fresh water for the residents and guests of Big White Ski Resort and ensuring that the water supply grows along with the resort population.
We want to ensure our water remains as some of the best in the world, and that we continue to have that bragging right for generations to come. Here are a few tips to help you conserve water while visiting or staying on the mountain. 

Be Water Wise - Fix the Drip
Own a property at Big White? Take the time every few months to check toilets, sinks, faucets and pipes in your space for leaks. If you are renting or staying at a property on the mountain and notice your toilet running or a leak, inform your property manager immediately. 
Be Water Wise - Take Shorter Showers
Spend less time in the shower and more time on the slopes! Avoid baths when and where you can.
Be Water Wise - Turn off the Tap
When brushing your teeth, shaving, or even washing dishes, only keep the tap on when needed. 
Be Water Wise - Only Full Loads
Only run your dishwasher when you have a full load. Dishwashers use large volumes of water, about 60 litres of water per load. Only run washing machines with full loads or on eco mode. Washing machines use anywhere between 100-200 litres of water per load.
Be Water Wise - Toilets Are Not Trash Cans
Do not flush cigarette butts, facial tissues, or other small bits of trash! Every time you flush something that isn't meant to be flushed, you're wasting gallons of water. Put them in the garbage, or better yet, recycle.