Try These New Menu Items at Big White Ski Resort
Posted On: March 04, 2020 |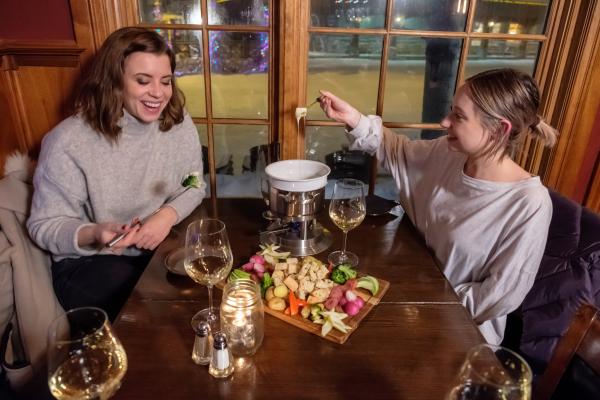 Each week, we'll update this blog with a photo and description of a new dish available at a Big White restaurants. Sign up for our weekly newsletter Snowghost at the bottom of the page to stay in the loop.
Devilish Eggs - The Woods
What's old is new again! This culinary classic has been modernized for this season's menu at The Woods. We use free-range, organic eggs and slow cook them in a water bath. The yolks are whipped with smoked paprika and chilies to spice things up. The whipped yolks are then piped back in to the whites. To garnish them, we use house pickled onions, fried capers and a frico crisp made from caramelized, local Gruyere cheese. These are a fantastic way to start your après after hitting the slopes.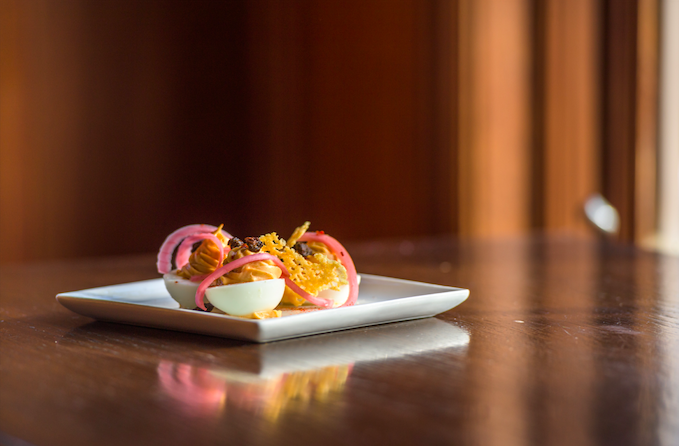 Chef's Alpine Noir Chocolate Custard - The Woods
This decadent dessert is made with our Big White signature, custom recipe 68% dark chocolate called "Alpine Noir." It's a rich, smooth dark chocolate custard made with free-range egg yolks, sugar, milk and heavy cream. This is a double chocolate dish, as we also created a thin crisp chocolate bark from our signature 43% milk chocolate, the "Monashee Milk." Silky peanut butter crème and tart raspberry gel garnish the plate, as well roasted pistachios and bitter cocoa nibs, all combining to create a harmonious flavour, while also bringing some crunchy textures to the dish. This dessert will satisfy any sweet tooth and is a great share item with your special someone.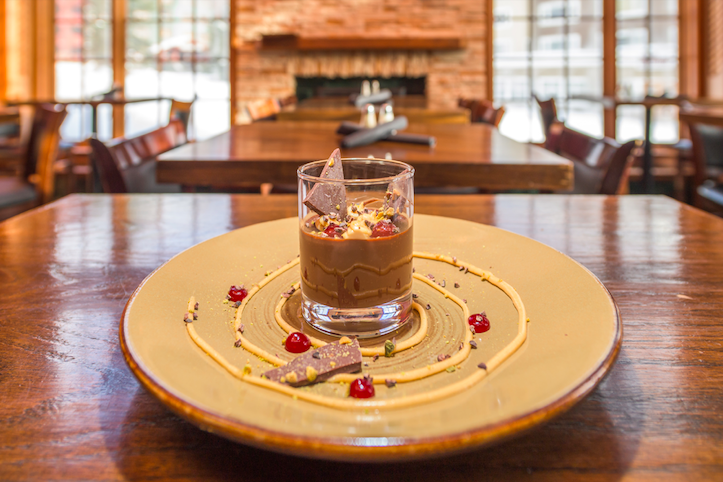 Gnocchi Gratin - The Woods
One of the most popular dishes this season is our Gnocchi Gratin. This brand new menu item is warm, filling and bubbling with loads of melty Provolone cheese. This is comfort at its best. We start with little pillows of goodness, gnocchi, which are a potato dumplings. After cooking them in salted water we pan sear them to create a nice caramelized crust. In goes local wild foraged mushrooms, brussel sprouts and corn. The creamy sauce is made with nutty brown butter, roasted garlic, white wine and heavy cream. Before going in a hot oven, we add seasoned bread crumbs and crushed pistachios. This is a great vegetarian friendly dish but you can also opt to add a protein – sautéed garlic prawns or buttermilk fried chicken thigh. 
Plant-Based "Tuna" Poke Spoons - The Woods
One of our most successful dishes for the past two seasons is our Yellowfin Tuna Poke. We wanted to be able to deliver the same experience to our plant-based guests and developed a version that is plant-based friendly as well as gluten free. In replace of the Yellowfin Tuna, we use tomato fillets that have been marinated in gluten free soya, Asian aromatics and lightly smoked for a umami flavour. This creates a texture and taste very similar to raw tuna. Fresh avocado, cucumber, and vibrant fresh citrus salsa accompany the plant-based tuna as well as our grapefruit ginger dressing and an ocean briny seaweed sesame salad. All of this is served on ceramic spoons instead of the crispy wonton cups like our Yellowfin which makes this a nice gluten free dish. You definitely don't have to follow a plant-based diet to enjoy this starter. It makes for a great sharing item or a light lunch.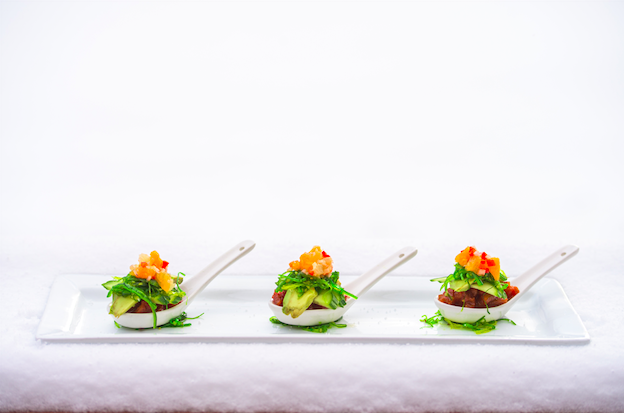 $45 Dinner - The Kettle Valley Steakhouse
This season, in our Kettle Valley Steakhouse, we have a new three-course menu that runs in conjunction with our regular a la carte menu. It's $45.00 per guest and is available seven nights a week. Enjoy a simple mixed green salad loaded with fresh, thinly shaved vegetables, blueberries and pecans that have been tossed in a white balsamic vinaigrette. Next up is our juicy, in-house butchered and aged 6oz Petit Tender steak. This Canadian Prime beef steak is fire grilled to your liking and accompanied by buttery, silky smooth pomme purée, slow roasted heirloom carrots and a red wine reduction sauce. To cap off the evening is a trio of locally produced, artisanal gelatos with sweet garnishes. Pair this meal with wine from our award winning list or perhaps one of our house crafted cocktails. Learn more. 
BC Albacore Tuna Carpaccio Niçoise Style - The Kettle Valley Steakhouse
At Big White are huge proponents of sustainable practices. This is why we have had all our Food & Beverage outlets certified by the Ocean Wise program at the Vancouver Aquarium. In our Kettle Valley Steakhouse, all of our seafood selections are sustainable harvested and sourced from our local fish monger. This popular starter course showcases some beautifully pristine British Columbian Albacore tuna that we prepare as "carpaccio." The inspiration came from my love of a good Nicoise salad. Nicoise's are usually comprised of cooked potatoes, boiled eggs, fresh tomatoes, French green beans, Nicoise olives and either anchovies or tuna. For this dish we stick with those flavors but twist them up. The potatoes are hand cut and fried into crispy potato chips. We cure organic-free run egg yolks in salt and sugar for 48 hours, which are then grated to order over the tuna as a seasoning. Blanched green beans, fresh heirloom tomatoes and assorted radishes bring a nice bite to the dish. The Nicoise olives are made into a vinaigrette for a rich briny acidity that brightens all the ingredients up. This is a great way to start your meal or share with friends before enjoying one of our signature steaks.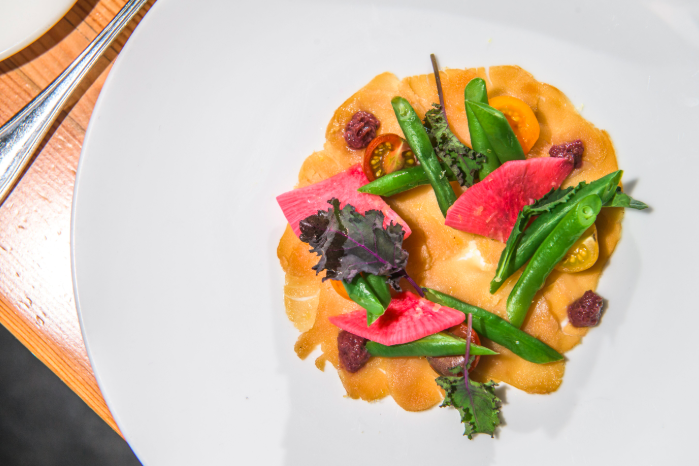 Berreta Farms Beef Ribeye - The Kettle Valley Steakhouse
Let's talk beef for a minute! Kettle Valley Steakhouse uses some of the finest ranchers and farmers. Berreta Farms is one of them. We teamed up with them to showcase their amazing beef ribeye this season. Our team ages all our beef in house. Each steak is hand cut as well. This ribeye weighs in at 14oz! It's fire grilled to your liking and seasoned using our custom Espresso grind from Clock Tower Coffee and fresh coarsely ground peppercorns and sea salt. When you order any of the steak offerings off our menu, you can choose one of the scratch made sauces like: classic béarnaise, green peppercorn, red wine glacé or the signature KVSH steak sauce. Be sure to try one of our tasty culinary offerings from the "Sides" section of our menu: Buttery chive and crème fraiche pomme puree, Wagyu tallow roasted fingerlings potatoes with black truffle salt, the ever popular creamed corn with jalapeños and aged cheddar, or roasted Heirloom carrots that are glazed in forest dew honey and crunchy toasted buckwheat. They are all served family style and are large enough to feed a few guests so everyone at the table can enjoy!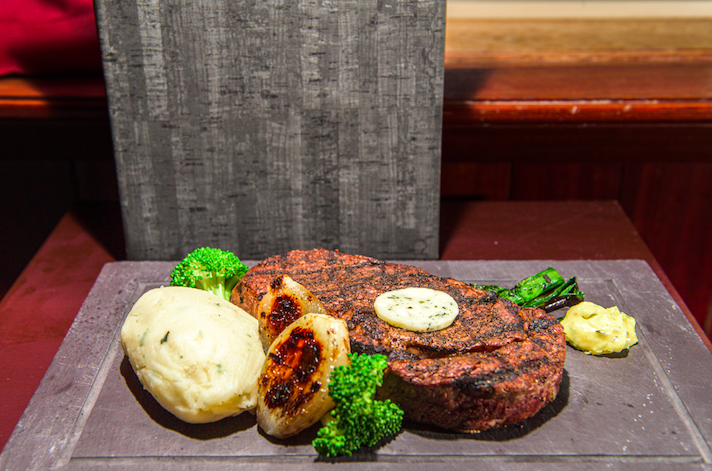 Individual Baked Alaska - The Kettle Valley Steakhouse
When you think of classic steakhouse house desserts, look no further than the Baked Alaska. At Kettle Valley Steakhouse, we carry on the tradition of table-side service for our version. Layers of locally produced lemon sorbet, raspberry sorbet, Amaretto gelato and a vanilla scented chiffon cake are all incased in a blueberry infused meringue. When you order this Baked Alaska, your server will set up a cart to finish it table-side. We flambé with a liquor and sauce it with a house-made strawberry reduction. Try this show stopper of a dessert, any night of the week until the end of the ski season.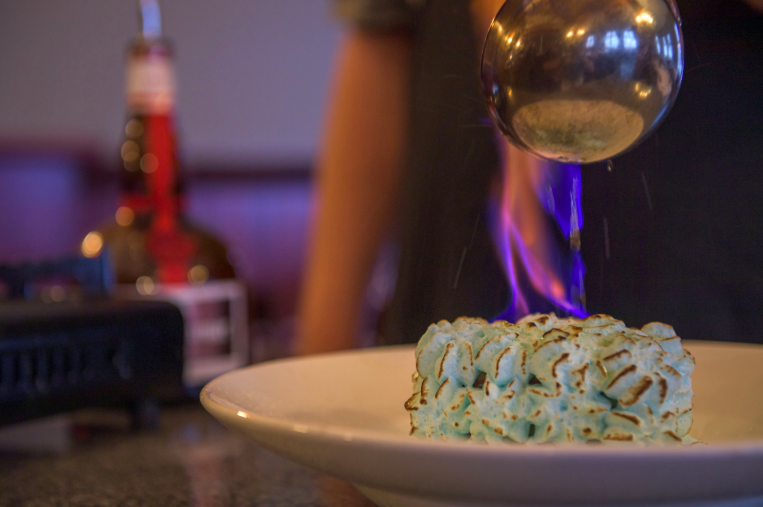 Snake River Farms Wagyu Beef Flat Iron Tartare - The Kettle Valley Steakhouse
Every good Steakhouse has some form of traditional beef tartare on the menu. Here at Kettle Valley Steakhouse, we use a cut of beef called the Flat Iron. Usually a very lean cut, but we use a Flat Iron from a Wagyu breed cow so it has the perfect ratio of protein and marbling, which in our opinion, makes the perfect tartare. We simply season with sea salt, fresh cracked pepper, stone ground Dijon, olive oil and  pickles. Crispy thin sourdough and house pickled winter vegetables, fried capers along with a decedent black truffle aioli round out this dish. This is a great way to experience Wagyu beef in all its glory.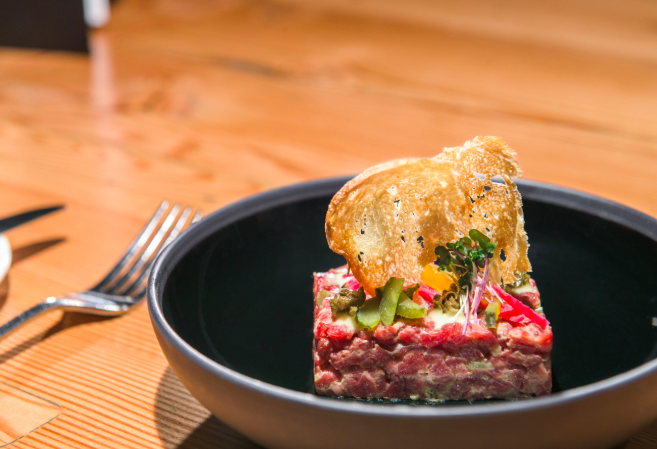 Read more about The Kettle Valley Steakhouse
Long Board Nachos - The Moose Lounge
Our Long Board Nachos have become somewhat of a legendary thing at The Moose Lounge. Loads of peppers, onions, roasted corn, olives and tomatoes are all smothered in our 4 cheese blend as well nacho cheese sauce. Enjoy them with sour cream and fire-roasted tomato salsa. To make them even more over the top, get a side of guacamole and a side of spicy beef chilli to dip your nachos in. Whether it's lunch, après or dinner these are great to share with family and friends!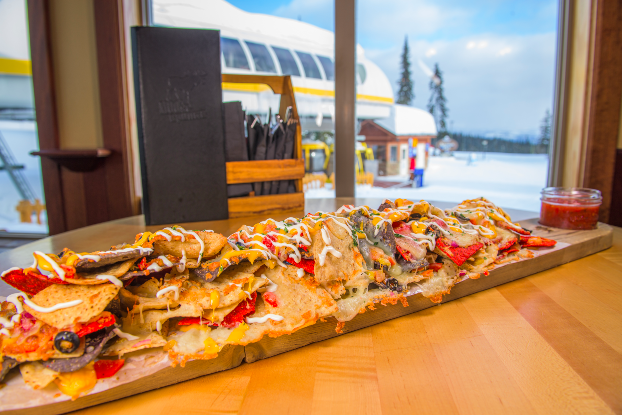 South Indian Beef Curry - The Moose Lounge
Who doesn't love a good curry on a cold day? Our Moose Lounge team slow cooks the curry everyday for three hours. The beef is from our partners at Beretta Farms. The short ribs are cooked in a house blend of 15 different spices. This rich and thick curry is served over top basmati rice that has been cooked in coconut milk. Toasted almonds are added for a crunchy texture, as well, their nutty flavour rounds out the curry nicely. We also offer a vegan version of this curry in our Plant Based section of the menu. Come down and try this paired with a local IPA beer for a fantastic quick meal.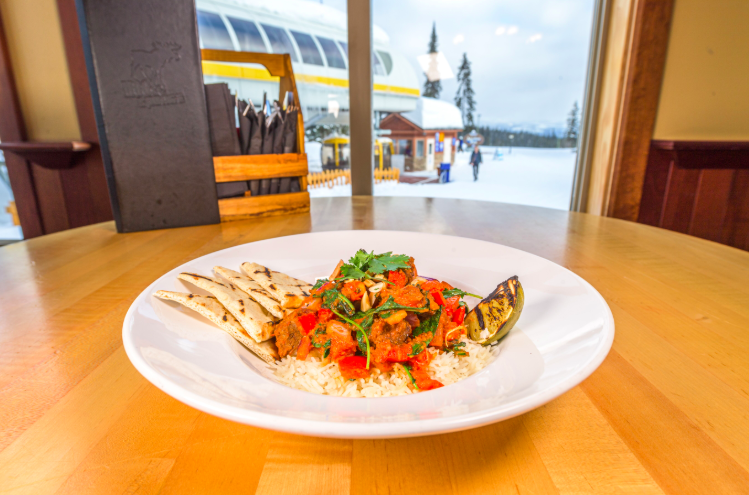 Smashed Green Garbanzo Bean & Potato Quesadilla - The Moose Lounge
Maybe not your typical pub quesadilla, but we think that is what makes it fun and interesting. It's chock-full of good things like seasoned smashed green garbanzo beans, AKA green chickpeas, loads of cheese, potatoes, roasted corn, green onions and pesto. Dip your quesadilla in a side of our guacamole and your set! Enjoy this vegetarian friendly offering in the Moose Lounge 7 days a week until the end of the season.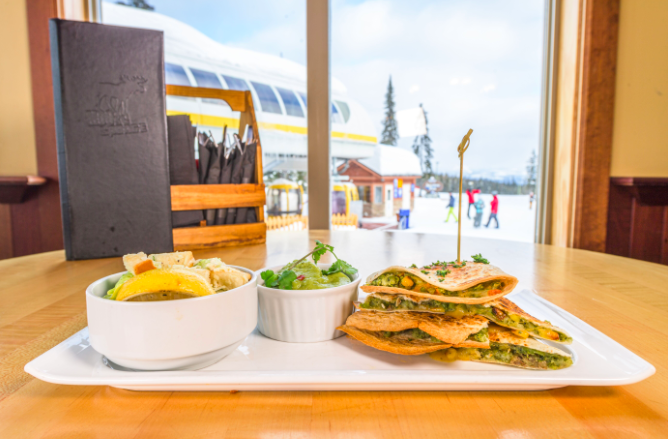 Wild BC Sockeye Salmon Burger - The Moose Lounge
As part of the Ocean Wise partnership, we are committed to using only sustainable harvested fish and seafood throughout all of our operations. Here at the Moose Lounge you can enjoy the ever popular Wild Caught Sockeye Salmon Burger. The Salmon patty is seasoned with Mediterranean spices and chargrilled. We spoon on our creamy Okanagan feta sauce, then pile on layers of fresh tomato, baby kale and house onion pickles. We choose to serve the Salmon on a buttery soft roll to compliment the bold flavours that make up this burger. If you're looking for something a bit different for your next burger fix, pop into the Moose Lounge and give this a try!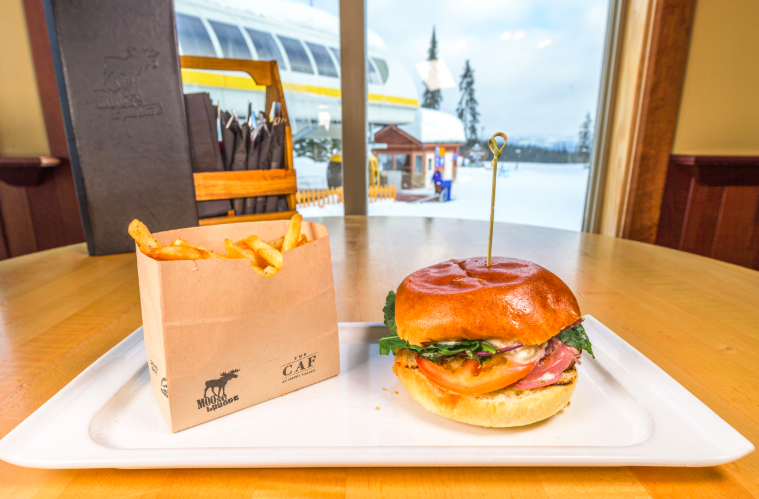 Read more about The Moose Lounge