Whether you're a beginner or an expert, there's always room to improve skills, build confidence or get to know the mountains better.  We have single-day, multi-day or winter-long programs for every type of skier and snowboarder. Our professional ski instructors will help get you started or take your skiing and riding to the next level.
Adults' Ski Ability Levels
Level 1 - Never Ever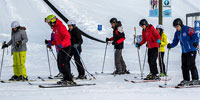 You have never ever skied before.
You want to start at the very beginning.
Level 2 - Once or Twice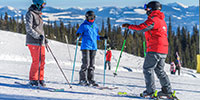 You have been out once or twice before but you still consider yourself a beginner.
You are learning how to link wedged turns and control speed.
You are still learning on the magic carpet.
Level 3 - Plaza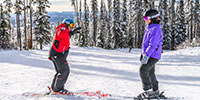 You are doing linked, basic wedge turns on the magic carpet
You are building your confidence by controlling both your speed and changing direction and are ready to use the beginner chair lift
You are learning better balance and to link your turns smoothly.
Level 4 - Green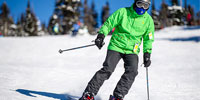 You have built your confidence in changing direction and make linked wedge turns.
You feel ready to go up the mountain and explore green terrain.
You are in a wedge, but at times in your turn, your skis go parallel.
Level 5 - Blue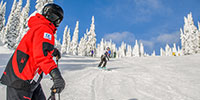 You are comfortable skiing on our green runs; you have built your confidence in looking ahead and making various turn shapes.
You want to build your confidence as you explore blue runs.
Time to work on turn shape and rhythm when linking turns with your skis parallel.
Level 6 - Black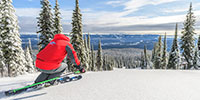 You want to learn how to keep a rhythm on bumps and black terrain and to find some flow.
You want to build your confidence as you explore black runs.
Time to work on feeling the separation of your upper and lower body while linking your turns, using your pole plant for timing your start.